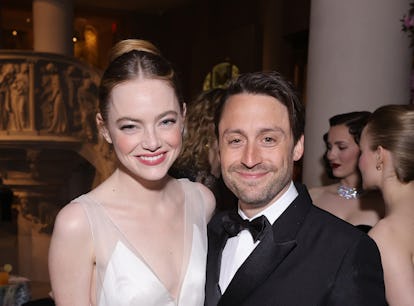 "When Emma Falls In Love" May Be About *Checks Notes* Roman Roy?
The crossover no one expected.
Emma Stone and Kieran Culkin
Another day, another intriguing Taylor Swift theory. At the moment, Swift's fanbase are fawning over Speak Now (Taylor's Version). This new release, which dropped on July 7, is a re-recording of the original 2010 album and includes six new vault songs. While Swifties seem divided over certain aspects of the record, one thing's for certain: The fans are living for the album's new offering, "When Emma Falls in Love." The swaying track has captured fans' attention, as some believe it's a tribute to her friend (and self-proclaimed Swiftie) Emma Stone.
There's several songs on Speak Now that take inspiration from Swift's personal life. With a large chunk of her catalogue referring to her past romances, Swift has dabbled in telling her friends' stories, too. (Lest we forget her habit of revealing the names of Blake Lively and Ryan Reynolds' children.) At her Kansas City stop on the Eras Tour on July 7, Swift played "When Emma Falls In Love" as one of her surprise songs. "I wrote this about one of my best friends," she told the stadium before playing.
Fans believe Swift wrote the song during her original Speak Now days, as the song is littered with references to Stone and their blossoming friendship at the time. According to Entertainment Weekly, the duo became friends in 2008 after meeting at the Young Hollywood Awards. Then, the same year Speak Now released, Stone brought Swift with her as a date to the premiere of her 2010 cult-classic Easy A. Their friendship has stayed afloat over the years, with Stone recently supporting Swift at her Eras Tour earlier this year.
Swift hasn't confirmed if the sweet tune is an ode to Stone; however, that hasn't stopped fans from slipping on their detective hats and dissecting the lyrics. The first hint (besides the name drop in the title) comes in the first verse, where Swift croons:
"When Emma falls in love, she calls up her mom / Jokes about the ways that this one could go wrong / She waits and takes her time, 'cause little miss sunshine always thinks it's gonna rain."
The final line could be a nod to Stone's memorable scene in Easy A, where she hilariously sings along to a greeting card that plays Natasha Bedingfield's hit, "Pocketful of Sunshine."
Another hint? Later in the song, Swift sings:
And all the bad boys would be good boys / If they only had a chance to love her / And to tell you the truth, sometimes I wish I was her
Fans think this line could be a reference to an old interview, which recently resurfaced on TikTok, where Swift says she would like to be Stone for a day. "I would be Emma Stone. She's one of my really, really good friends," she said.
Talk about nostalgic. There's also verse three, where fans speculate Swift references the Stone's former relationship — though they're divided on whether the "boy with eyes like a man" is a reference to Kieran Culkin (aka Succession's Roman Roy) or Andrew Garfield. IYDK, Stone and Culkin started dating after working on the movie Paper Man in 2009 — right around the time Swift would have been writing songs for Speak Now. They reportedly dated until 2011.
When you look at the timeline more closely (Speak Now originally came out in October 2010), it makes sense that this relationship — and not Stone's later romance with Garfield — would work as Swift's inspiration. Plus, J. Smith Cameron, who plays Gerri on Succession, seemed to buy it. "Gosh I remember this because they were dating when we did Kenny's play THE STARRY MESSENGER together in nyc I remember meeting Emma backstage between shows one day," she replied to the theory on Twitter.
Some fans, however, still think Stone and Garfield's relationship was the basis of the song. The actor had a much more public relationship with Garfield, whom she first met on the set of their 2010 film The Amazing Spider-Man. They reportedly dated between 2011 and 2015.
Beyond the oddly specific references, "When Emma Falls in Love" is a poetic stunner that tugs on the heartstrings. Now, if there's truth to those nods in the track, it makes this offering more sweeter. Check out Swiftie's reactions to the new vault song, below — plus, their favorite theories about the track's inspiration.
In the comments section, one Swiftie called this theory, "the taylor swift succession crossover i have [been] waiting for."
Whether the song is a reference to Culkin or Garfield, fans are having the time of their lives decoding all of Swift's references.
Some fans are even pulling quotes form Garfield's old interviews about Stone to make their case. Though, TBH, him saying "she's like bathed in sunlight" is probably more relevant to a song that calls her "little miss sunshine" than the coffee comparison.
We love a friendship duo that's not afraid to gush over one another.
Speak Now (Taylor's Version) is out now.
This article was originally published on