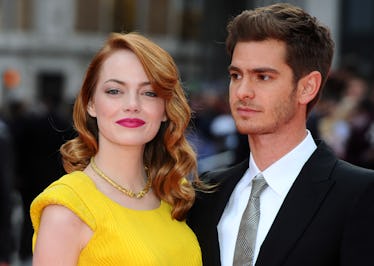 Emma Stone & Andrew Garfield Were Reportedly Spotted At A Cozy Dinner & Please Hold Me
Anthony Harvey/Getty Images Entertainment/Getty Images
I've learned the hard way to never let my trust in love fall into the hands of my favorite stars. From Anna and Chris to Channing and Jenna to, of course, Brad and Jen, these Hollywood stars have ripped my heart right out of my chest and torn it into pieces time and time again. Emma Stone and Andrew Garfield's on-again-off-again relationship is no exception to this rule. After years spent wondering, "Are Emma Stone and Andrew Garfield back together?" a recent encounter between the two has me thinking they just might be.
For those of you who aren't familiar with the history between Emma Stone and Andrew Garfield, let me give you some backstory. The two first met in 2010 on set of The Amazing Spiderman where Garfield played Peter Parker and Stone played his love interest, Gwen Stacy. Back then they were both in relationships, so, according to Cosmopolitan, Garfield and Stone actually weren't romantically linked until March 2012 when they were spotted publicly kissing. They officially broke up in 2015 and an anonymous source told People it was totally amicable. Per the source:
There was no drama, they've been apart while working. They still care about each other. They still have love for one another. They are on good terms with each other and remain close. They never stopped caring about each other. Even when they split, Emma and Andrew had great love and respect for each other.
Despite the breakup, the two have remained close friends. Garfield's even gushed about his Oscar award-winning ex. For example, in this interview with Vanity Fair he shared:
I'll speak for myself: You know, I'm her biggest fan as an artist. I'm constantly inspired by her work. I'm constantly inspired by how she handles and holds herself. So for me, I've—it's been bliss to be able to watch her success and watch her bloom into the actress that she is. And it's also been wonderful to have that kind of support for each other. It's nothing but a beautiful thing.
So, yeah, they're pretty freaking adorable and we all want them to get back together really badly.
And today, Page Six offers us a (very) tiny glimmer of hope. According to a "spy" at the restaurant, Stone and Garfield were spotted this past Tuesday night dining at Dell'anima, a restaurant in New York City's West Village.
While the jury is out on whether or not they're actually back together, the source told Page Six that the two were "looking very much like a couple."
What does a couple look like, you ask? Well, according to Page Six's source, "They were talking and sitting very close."
"They were laughing and smiling," the source continued to Page Six. "They both seemed happy."
Elite Daily reached out to representatives of both Stone and Garfield for comment and did not receive a response by the time of publication.
As much as my heart yearns for this to have been a romantic tryst between to two lovers, there is a huge chance that they really were just grabbing a bite to eat as friends.
In fact, Stone has recently been romantically linked to another famous actor — her current co-star in the series "Maniac" — Justin Theroux.
According to Page Six, Theroux and Stone showed up together at a Met Gala after party. Yep, that's right. While regular people go to dumpy dive bars with their hookup buddies, Hollywood stars just casually show up at Met Gala after parties. Same.
Even if Theroux wasn't in the picture, I still wouldn't be getting too excited about a Garfield-Stone reunion. They gave people false hope in 2016 when they were spotted together in London. And, according to The Cut, people want the two of them back together so badly that the phrase "Emma Stone Andrew Garfiled back together" gets 11,000,000 hits on Google. For those of you who didn't catch exactly how many 0's that was, it's 11 million.
So people really want them to get back together. But you know what I say? As fans, we should support them in doing whatever makes them happy and, if this weird ambiguous exes-who-are-friends-who-look-like-couples type situation makes them happy, then go for it!
Check out the "Best of Elite Daily" stream in the Bustle App for more stories just like this!