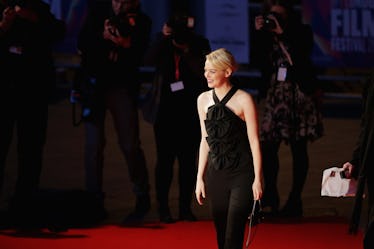 Is Emma Stone Single? Fans Still Want Her To Reunite With A Famous Ex
Ricky Vigil/Getty Images Entertainment/Getty Images
Breaking up is hard to do, as the old saying goes, and breaking up when you live your life on the A-List is twice as hard. Not only do you have to get over the relations, but so do your family, your friends, and legions of devoted fans — many of whom were just as invested as you were in making it work. Such is the case with Emma Stone, whose break up with Andrew Garfield was taken hard by their fans. But with the Golden Globes around the corner, fans want to know: Is Emma Stone single? Will she have a new man on her arm when the red carpet rolls out? Or is there a chance she and Garfield could still be an item, even if it was just for one night?
Sadly, Emma Stone fans, it looks like the lady has moved on. According to People Magazine back in October, Stone has a new boyfriend. His name is Dave McCary, and the sources who let People in on this new relationship news assured them it's been going on since the summer. At this point, it's been going on for nearly half a year. Perhaps that's not the longest relationship in history, but for Hollywood, that's commitment.
So who is Dave McCary? Like Stone, he's in the entertainment business, but he's not one for in-front-of-the-camera hijinks. He's a writer and director for the longstanding TV show Saturday Night Live. In fact, that's where he and Stone first met back in 2016, when she hosted the episode that aired on Dec. 3, during her promotional push for last year's almost-Oscar winner La La Land.
According to People, he actually directed one of the sketches Stone was in. (They have a stable of directors who trade off segments.) The segment in question where the sparks apparently flew was "Wells for Boys."
Sources also told People that unlike Stone, McCary is not one to have any interest in the spotlight.
Dave has this core of kindness and sweetness. He's tall and fit, confident and funny. He's not someone who seeks the spotlight.
Stone tried to keep the relationship on the down-low, but New York City being what it is, Page Six outed them before People Magazine unofficially confirmed it.
Since October, Emma Stone has been seen around New York City with McCary. They celebrated her 29th birthday together, and have been spotted out and about as recently as after Thankgiving, doing some holiday shopping.
But do not cry, fans. Andrew Garfield and Emma Stone are still good friends. They were together for four years before their 2015 breakup and, according to People, they ended their relationship on good terms.
There was no drama, they've been apart while working. They still care about each other. They still have love for one another. They are on good terms with each other and remain close. They never stopped caring about each other. Even when they split, Emma and Andrew had great love and respect for each other.
Will Emma Stone bring McCary with her to the Golden Globes? That is less certain. As was noted above, McCary is supposedly someone who is not big into the spotlight, and red carpets are perhaps not his forte. (Though if he goes on to become a big time director after his time on SNL ends, he'll probably need some practice.)
If he does accompany Stone on the red carpet, it will be their first official outing together for the press, confirming their relationship to the world and putting the final nail in the coffin for fans who were hoping for the Stone-Garfield reunion down the line.
And if that happens, hey, at least we'll always have The Amazing Spider-Man.