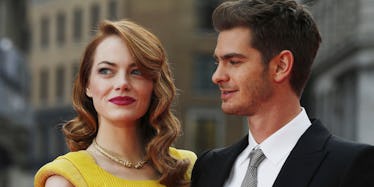 Emma Stone And Andrew Garfield Are Hanging Out Again And Twitter Is Loving It
REUTERS
Even for celebrities, when it's "over," it's not really over. 
The same could ring true for celebrity couple favorite, Emma Stone and Andrew Garfield. They were seen together in London on Sunday, and the pictures are giving us all the feels.
Here's a photo, along with a reaction that accurately describes how we're all feeling right now.
We were pretty torn up when they split last year.
However, according to PEOPLE, a source revealed they're "definitely not dating." Judging by the smiles on their faces, I'm going to say they're definitely doing something, though.
That's what happens when you start hanging out with an ex. The two dated on-and-off since filming "The Amazing Spider-Man" together in 2012.
They have history, people! And we're stoked about this recent development in their ex-lationship.
Twitter was seriously not prepared for this moment at all.
The stakes are pretty high here. Does Stonefield know what this does to their fans?
Let's hope they're not just messing with us...
...because there are a lot of feels on Twitter for a Tuesday morning.
MY PRECIOUS #STONEFIELD IS ALIVE! MAH FCKN HART MAH FCKN SOL!!!! pic.twitter.com/JFj6g8KnMf — kristyna (@yna_ventura) August 22, 2016
Like, people are crying actual tears of happiness.
I think deep down, we all know they're meant for each other.
I hope this sighting isn't the highlight of my week, or else it's going to be a long one.
Citations: Emma Stone and Andrew Garfield Step Out Together in London but Are 'Definitely Not Dating,' Says Source (PEOPLE)