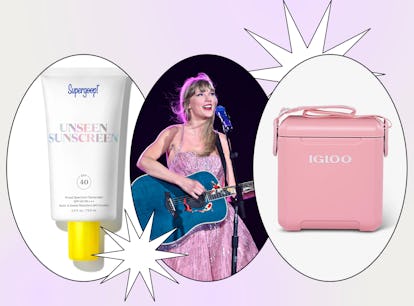 Swifties, Here's What To Bring Taylor-Gating On The Eras Tour
Supergoop!/Tom Cooper/TAS23/Getty Images Entertainment/Getty Images/Igloo/Elite Daily
We may receive a portion of sales if you purchase a product through a link in this article.
Swifties are some are the smartest fans, known for their ability to decipher easter eggs in music videos. They use their clever skills to DIY genius Eras Tour outfits and even find free ways to see Taylor Swift shows by volunteering. For fans unable to find last-minute tickets, though, they've been tailgating — or Taylor-gating — in order to enjoy the Eras Tour in their city. If you're wondering what Taylor-gating is, it's exactly what it sounds like. Fans are picnicking outside of stadiums for free listening parties when they can't get their hands on tickets. To have an enchanting time in the parking lot, here's everything you need to bring Taylor-gating on the Eras Tour.
Just a month into the Eras Tour, fans started realizing they could enjoy the concert from outside the venue. In April, TikToker @liljessmo shared a video from night one of Swift's shows in Tampa saying that fans could see and hear everything for free from a picnic blanket outside. The TikTok started trending, and by night two, several other fans had joined in. From there, #TaylorGating has seen thousands of fans coming together outside of stadiums. While some venues, like MetLife Stadium in New Jersey, have prevented tailgating from happening, most places are cool as long as Swifties are safely following the rules.
With the popularity of Taylor-gating in the U.S. and how difficult it's been for international Swifties to get their hands on tickets overseas, it's likely that the trend will continue into 2024. Here's a list of things you need to bring to the Eras Tour to make tailgating outside as fun (and comfortable) as possible.