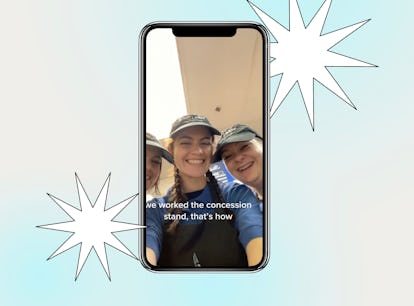 How 3 Swifties Volunteered At Taylor's Eras Tour To See It For Free
Taylor Swift is a mastermind, but Swifties work harder.
It would be an understatement to say Swifties have had to fight a great war to secure tickets to Taylor Swift's Eras Tour. Even with Ticketmaster's presale and all the different last-minute ticket avenues, the high prices mean some fans are still refreshing StubHub and entering every local radio contest. Luckily, Swifties are masterminds who can just as easily decipher music video easter eggs as they've found ways to see The Eras Tour for free. While they may not have been standing in VIP, these three Swifties volunteered at a Taylor Swift concert, and in this as-told-to below, they share how they got the job, what the application process was like, and if the experience working at The Eras Tour was worth it. They also shared some unexpected perks to volunteering that don't come in a VIP Eras Tour package, like access to soundcheck and early merch shopping — all for the low price of $0.
Danielle Laurito, 21, Got To See GAYLE & Phoebe Bridgers' Soundcheck
I've loved Taylor Swift since I was a kid, but knew there was no way I could afford Eras Tour tickets after the Ticketmaster incident. Luckily, my best friend knows someone who was running the food stand at the concert and hooked my sister and I up with a volunteering opportunity at the Eras Tour. I didn't expect to see Taylor perform, but I was happy that we'd be able to hear her while working and I'd get to create a core memory with my bestie and sister.
On the day of the concert, I got up at 8 a.m. to get to the employee parking lot at Gillette Stadium by noon. At the stand, we were given our uniforms and a rundown of our volunteering responsibilities. After taking inventory of the items, we were allowed to walk around the venue for a bit. We saw the stage being set up and listened to the soundcheck for GAYLE and Phoebe Bridgers. We heard some of Taylor's songs being played, but didn't actually get to see her warming up. We were also able to beat the line and go buy Eras Tour merch once the table was set up, which was an unexpected perk of volunteering.
Before the gates opened, we began setting up by preparing the food and putting out the cups and snack. Due to the expected crowds, my sister and I were assigned to be runners, and my best friend was a cashier. It was super busy once the doors opened and we served customers for hours, but the second Taylor started, the food cart lines emptied out.
We were able to watch Taylor come out, and alternated going back to the stand if we saw people coming to buy food. But, for the most part, we were able to watch most of the concert. Even from the stand we could hear her perfectly and had a view of the screen.
It was a very long day because we had to stay after the show to close up, but it was so worth it because I saved over $1000 that I would have spent on tickets. By volunteering, we also got free parking and food and drinks all night. If there was another concert that I was dying to go see but could not get tickets to, I would definitely volunteer again.
Victoria Calas, 26, Watched The Whole Concert During Her Shift
I didn't have tickets to The Eras Tour — after the drama with Ticketmaster, I saw they were going for like $19,000 online — so I immediately applied when I got a VolunteerMatch email to "Volunteer at a Taylor Swift concert" working "concessions" from 2:30 p.m. to 10 p.m. for the organization The Social Matters. I wasn't sure it was legit, but I was excited that I'd hear Taylor during my shift, even if I wouldn't actually be able to see her perform.
About a month and a half out from the concert, I had an interview with a rep who said she'd follow up with more information but was pretty vague about details. On the day of the show I still hadn't heard back. I thought it was kind of sketchy, but I decided to show up to the event anyways at the time I was told.
My manager from Social Matters was running late, so I reported to the barbecue stand inside with the other volunteers. It felt disorganized, and someone who worked for Raymond James Stadium asked us to do inventory with very little direction. I have previous restaurant experience, so it wasn't too bad for me.
We were super lucky that our kitchen was directly behind the door to the stadium so we were able to watch the concert when it started. If it got busy, we would come back inside, help out a little bit, and go back out to watch the show. We saw pretty much the entire concert. At the end of the night, the stadium manager wanted us to stay longer than the end of the 10 p.m. shift we'd agreed to with Social Matters. I stayed until like 11:30 p.m. and then just left.
Later, I reached out to the organization about my issues with the experience, and they actually sent me a $10 Amazon gift card for my trouble. Since I didn't have to pay for anything the day of the show, I basically made money. I probably wouldn't volunteer again for any other performer due to my experience. However, I have zero regrets about volunteering for this show. It was 100% worth it to see Taylor Swift, especially knowing how scarce Eras Tour tickets are.
Carrie Ann Jones, 30, Shopped The Merch Stand Early
I reached out to the booster club of my local high school's volleyball team to volunteer at a Taylor Swift concert. They'd teamed up with a non-profit, and all the proceeds that we made that night selling concessions at The Eras Tour would go to them. It was super easy to apply — after reaching out, all I had to do was some online training.
On the day of the show, we parked at a free lot in Nashville and caught a shuttle bus to the stadium. While in line for our wristbands, one of the other Swifties who was working the concert gave me a friendship bracelet, which made me feel like I was having a real Eras Tour experience like any other fan.
Once we got to the concession stand that was assigned to us — Nashgrille — we started to take inventory and set up everything for sales. I was assigned one of the register positions. The merch booth was right next us, so as soon as the doors to the stadium opened at 4:30 p.m., I was able to go next door and grab a shirt and a water bottle.
The lines were busy when the openers were playing, but the stand was slow during Taylor's set, so I got to watch almost the whole thing. When the last song came on, we went back to the stand to help close up and waited outside for a bus to take us to our cars. It was truly an unbelievable feeling for me as I have always wanted to see Taylor perform, and I got to do it for free. The only thing I had to pay for was giving my friend who I carpooled with a little gas money. Plus, volunteering also helped the kids that I care about at my local high school, so the experience was very well worth it to me.
These interviews have been edited and condensed for clarity.