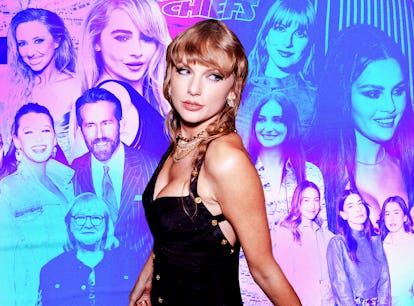 Taylor Swift Has A Whole New Squad These Days — Here's Who's In It
It's giving 1989 era, the sequel.
It feels appropriate that as Taylor Swift is ramping up to re-release 1989, she revived one of her most iconic 1989-era creations: the squad. In the mid-2010s, Swift led a star-studded friend group of actors, singers, and supermodels, but as she entered her darker Reputation era and shifted her focus to her private relationship with Joe Alwyn, the squad disappeared. But now, it looks like Swift is back in squad mode... even if many of the core members have changed.
Following Swift's breakup with longtime boyfriend Alwyn earlier in 2023, Swift has sparked new dating rumors with Kansas City Chiefs tight end Travis Kelce. In her flirty new era, Swift has going to football games and hanging out with close friends much more publicly, and a new squad has clearly formed.
There are some familiar faces from Swift's mid-2010s squad that are still tight with the superstar, but a few notable people have fallen out of favor, including Karlie Kloss, Zendaya, and Kendall Jenner.
Much of Swift's new friend group is made up of more recent connection. Here's who's at the center of the Swiftie universe these days.
Sophie Turner
Oh, the bonding powers of sharing an ex. Swift and Turner first met when they were both guests on The Graham Norton Show in 2019. While things could have been awkward between them, given that Turner was dating Swift's ex Joe Jonas, Turner professed her fandom for Swift several times throughout the relationship.
After Turner's divorce from Jonas in 2023, Swift began hanging out with her a lot, grabbing dinners together in New York and attending Chiefs games together. Swift even reportedly lent Turner her New York apartment as a home base for herself and her kids during the divorce.
Blake Lively and Ryan Reynolds
One of Swift's longest-lasting friendships is still going strong today. After Swifties misconstrued one of Blake Lively's 2015 Instagram posts as shade, the Gossip Girl star more than cleared things up by proving she's the ultimate Swift fan. Lively and Swift met up in Australia later that year for a photo-filled friend hang, and have been inseparable ever since.
Swift has even included Lively and husband Ryan Reynolds' family in a lot of her work. The couple's daughter James is featured in Swift's song "Gorgeous," and Swift revealed their third child's name in her song "Betty."
Lively and Reynolds were among the chosen crew to sit next to Swift in her box seats at the Oct. 1 Chiefs game.
Brittany Mahomes
If Swift was looking for someone to help her understand what it's like to date a football star, she chose the right person in Brittany Mahomes. The two only recently started hanging out as Swift began attending Chiefs games, and the bond makes sense, considering Mahomes is married to Travis Kelce's teammate, Patrick Mahomes.
Donna Kelce
It wasn't until Swift was spotted chatting with Travis' mother Donna Kelce that those dating rumors really took off. Since then, Swift always seems to have a spot near Kelce at the games.
Plus, they share a love for the same two NFL teams. Along with her new love for the Chiefs, Swift is a longtime Philadelphia Eagles fan. Kelce also splits her devotion between the Chiefs and Eagles, since her other son Jason plays for the Eagles.
Sabrina Carpenter
Swift's new friendship with Sabrina Carpenter has inspired a bit of drama. The two first started hanging out in 2022, around the same time that rumors were circling of Swift possibly feuding with Olivia Rodrigo. Since Carpenter was widely perceived to be the target of Rodrigo's breakup ballad "drivers license," fans took it as a slight when Swift added Carpenter as an opener on her Eras Tour.
Since then, the two have constantly been at one another's side, sitting next to each other at the VMAs and attending football games together.
Ice Spice
Swift's most experimental remix ever also led to one of the most exciting celeb friendships of 2023. After bonding with each other while working on the "Karma" remix, Swift and Ice Spice have remained very close, which they proved by stealing the spotlight at the VMAs constantly giggling together in the crowd.
The Haim Sisters
Taylor Swift will always be the fourth Haim sister. She first became close with Danielle, Este, and Alana Haim in 2015, as they were first acheiving success as a band. After years of friendship, they finally worked together on Swift's song "no body, no crime" in 2020, which they performed live with her as openers on her Eras Tour.
Swift is still consistently spotted hanging out with the Haim sisters, and they even spent the Fourth of July celebrating together in 2023.
Selena Gomez
With a friendship that's lasted for a decade and a half now, Selena Gomez is at the core of Swift's squad. Much like Swift's friendship with Sophie Turner, her bond with Gomez was forged in the Jonas Brothers fires, as both singers got to know one another through double dates as Swift dated Joe Jonas and Gomez dated Nick in 2008.
The two have remained besties throughout the years, most recently giving their fans a Taylena photo moment at the VMAs.
Jack Antonoff
Swift's closest collaborators in the studio also tend to become her closest friends outside of it, and there's no better example of that than her tight bond with Jack Antonoff. Swift first started working with Antonoff on 1989, and he would go on to be the key producer on all her following albums.
They've constantly sung one another's praises as both artists and friends, so of course Swift showed up to Antonoff's wedding earlier in 2023 to celebrate her bestie's big day.
Hayley Williams
Another one of Swift's longtime collaborators who's still as close a friend as ever, Hayley Williams and her band Paramore have been by Swift's side since a chance encounter in 2008. Williams became a central part of Swift's squad in the mid-2010s, even starring in her "Bad Blood" music video.
The two are still very close today, with Williams serving as an opener for Swift's Eras Tour. They also released their duet, "Castles Crumbling," earlier in 2023.