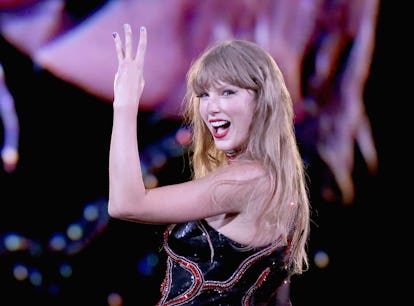 Swifties Think 1 Speak Now Vault Song Predicted Taylor's Whole Reputation Era
The "Call It What You Want" vibes are real.
John Shearer/TAS23/Getty Images Entertainment/Getty Images
Taylor Swift's Speak Now era just got a major expansion, as her re-released version of the 2010 album added six previously unreleased tracks to the magic. But one of these new songs feels a bit out of place for some Swifties. The specific lyrics and deeper meaning behind "Castles Crumbling" seems more in line with Swift's 2017 album Reputation, and now fans are piecing together a theory that this song was the spark that eventually lit the match for her most infamous era years later.
It's easy to see how "Castles Crumbling" sticks out from the rest of the Speak Now track list. The bulk of the album is focused on romantic relationships, from the intoxicating spark of a new crush in songs like "Enchanted" to the rumination on love gone sour in cuts like "Dear John." But "Castles Crumbling" sees Swift getting introspective about her own career and place in the larger culture, which is a major theme of Reputation, not Speak Now. On the song, which features Hayley Williams, Swift fears she's "fallen from grace" and laments people "screaming that they hate me."
Thematically, the song sounds more in line with Reputation, which Swift wrote in the aftermath of a very public fight with Kanye West and Kim Kardashian, when the general public was more split than ever on their perception of her. Along with the song's themes, its lyrics also bring Reputation to mind, particularly the song "Call It What You Want." Both tracks employ imagery of castle's crumbling and burning bridges to illustrate Swift's self-perceived fall from grace.
After hearing the song, Swifties were blown away by how Reputation-coded a song on Speak Now could be.
But there's a very likely reason for this parallel between a 2010 song and a 2017 album. Fans think "Castles Crumbling" is about the infamous moment at the 2009 VMAs when Kanye West interrupted Swift's Best Female Video acceptance speech to declare the award should have gone to Beyoncé instead. Swift has said that she thought the world had turned against her in that moment.
"It was so echo-y in there. At the time I didn't know they were booing him doing that. I thought they were booing me," Swift revealed in her 2020 documentary Miss Americana. "For someone who's built their whole belief system on getting people to clap for you, the whole crowd booing is a pretty formative experience. That was sort of a catalyst for a lot of psychological paths that I went down."
Lyrically, it sounds pretty feasible that "Castles Crumbling" probably came from that experience, and it eventually evolved into her whole Reputation era when those feelings returned later in the 2010s.