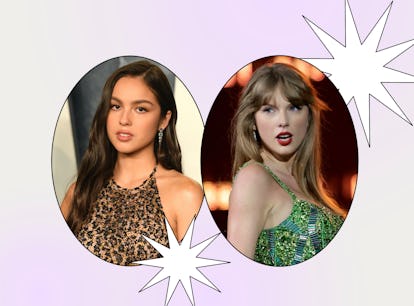 This Is Why Fans Think Taylor & Olivia Rodrigo Have Drama
Fans are pretty divided on the matter.
Steve Granitz/FilmMagic/Getty Images/Kevin Mazur/TAS23/Getty Images Entertainment/Getty Images
Olivia Rodrigo, Sabrina Carpenter, and Taylor Swift have been on a winning streak lately. After a two-year hiatus, Rodrigo's hinting at a musical comeback. Meanwhile, Carpenter and Swift are on a sonic domination with their respective tours, emails i can't send and the Eras Tour. The two will continue their time on the road, as Swift recently announced Carpenter will join her for her new shows in Latin America. While the tour expansion is exciting for Carpenter (whose a self-proclaimed Swiftie), some fans believe this decision was a diss towards Rodrigo. Let's discuss.
This theory began on June 2, when Swift revealed her new Eras Tour dates on Instagram. "Really thrilled to tell you this!! Mexico, Argentina and Brazil: We are bringing The Eras Tour to you this year!" Swift wrote in the post. She then added Carpenter, who she called a "sweet angel princess," will be an opener for every show.
Shortly after, Carpenter shared the new international dates on her own Instagram. There, she sweetly flaunted her Swift stan card and dubbed the upcoming trek of shows as a "dream come true."
The news of Carpenter's addition to Swift's tour raised several eyebrows for one reason: Rodrigo's allegedly had rumored drama with both singers. Yes, it's that layered. While both these unconfirmed fueds stem back to 2021, it was the love triangle saga between her, Carpenter, and Joshua Bassett that commanded the most attention.
It's commonly believed Rodrigo's somber hit, "Drivers License," was about her rumored ex and then High School Musical: The Musical: The Series co-star Bassett. Carpenter is also theorized to be the "blonde girl" Rodrigo sang about in the song, as Bassett was rumored to be in a relationship with Carpenter after dating Rodrigo in 2020. However, Bassett's relationship with either singer was never publicly confirmed.
As with any drama between musicians, Carpenter and Bassett allegedly addressed the hearsay in tracks like "Because I Liked A Boy," "Skin," and "Set Me Free." These releases only stirred the pot; however, the beef didn't fully subside until Carpenter and Rodrigo were seen chatting at the 2022 Met Gala.
While there seems to be a decent ending to Carpenter and Rodrigo's alleged beef, this can't be said about her "situation" with Swift. In 2021, fans noticed the Sour singer added Swift to the songwriting credits of her single, "deja vu." Rodrigo later confirmed the 'sad girl pop' tune was heavily inspired by Swift's Lover track, "Cruel Summer." Rodrigo also added Jack Antonoff and indie rocker St. Vincent, who both helped create Swift's track, to the songwriter roster on "deja vu," too.
That next year, Sour racked up several impressive nominations at the 2022 Grammys. The debut's largest nod was Album of the Year, where every songwriter and producer listed in the credits also receive a nomination. However, Swift, Antonoff, and St. Vincent's names were reportedly axed from the roster of credited artists for "deja vu." According to i-D, the Grammys cited their original inclusion as a "submission error."
After this credit debacle, many fans noticed the two singers stopped publicly supporting one another. Rodrigo's alleged silence stuck out to fans, as she endlessly gave Swift her sonic flowers throughout her Sour era. She lamented Swift as a huge inspiration to her singing career, and reportedly interpolated the piano melody of Swift's Reputation track "New Year's Day" on Sour's "1 step forward, 3 steps back."
While it's not definite there's bad blood between Swift and Rodrigo, fans took their lack of public support as such. Some fans believe their uncomfirmed drama began earlier, when Swift was taken off the songwriter credits for "deja vu."
Meanwhile, other fans believe there's no drama between all three singers, and that Swift had no ill intentions in choosing Carpenter as a tour opener.
While the response is mixed, it's safe to say that fans of all three performers are over the drama.