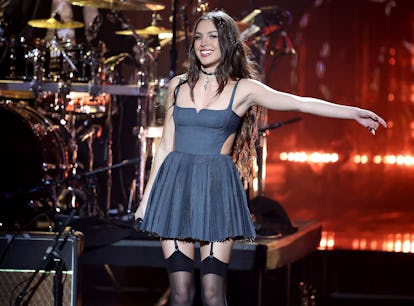 Wait, Did Olivia Rodrigo Just Hint At A New Album?
Amy Sussman/WireImage/Getty Images
Olivia Rodrigo's Sour will forever be famous. At the time of the album's 2021 release, Rodrigo's career seemingly emerged out of nowhere. However, listeners couldn't deny the record's lush and slightly chaotic blend of breakup anthems ("Drivers License") and angsty hits ("Brutal" and "Good 4 U") that pumped with a similar tenacity of an early 2000s emo playlist. With such an impressive debut, fans waited to see how she'll top the album. Nearly two years after its release, it appears Rodrigo's hinting at a musical comeback. And by these small hints, fans believe her return will come soon — like, this year soon.
On May 20, the pop singer seemingly shared an update about her new music in a newsletter. She began the handwritten note by celebrating Sour's two-year anniversary and thanking fans for "embracing" the album. "I'm taking today to reflect on all the amazing things that have happened since SOUR and looking forward 2 all the things to come," she wrote.
In the letter, many fans noticed the singer capitalized "OR" in forward and bolded the number 2 that followed. Similar to one of her biggest music inspirations, Taylor Swift, Rodrigo has a knack for hiding Easter eggs in her work. It wouldn't be too far-fetched for the star to slip in a secret message to this post, considering it's been a while since she's released music.
Some of her fans noticed the odd details in the note, and are now theorizing Rodrigo is teasing her second album is on the horizon. On TikTok, user Nicky (@nicky.reardon) believes the singer might drop a single as soon as June. In his video, he acknowledges the bolded "OR" and "2" and notes Rodrigo also released new merch to commemorate Sour's two-year release. However, something's a little different with the new t-shirt's design.
As Nicky points out, the latest batch of shirts — which features a mockup of the singer's drivers license — has June 30, 2023 listed as the expiration date. This detail differs from the expiration date on the original shirt that dropped in 2021, which reads Jan. 8 of that year. For context, that date represents when "Drivers License" dropped as a lead single before appearing on Sour four months later.
Another user echoed a similar theory, hinting that "OR" and "2" might translate to "Olivia Rodrigo's second album" will come on that exact June date. OK, fans might be onto something with these hints. Rodrigo's surprise merch drop comes nearly four months after she offered a behind-the-scenes glimpse into her making music. In January, the "Deja Vu" crooner posted a clip of her and producer Dan Nigro — whose musical chops can be heard on Sour — playing the piano on her Instagram Story. The chords were brief but still intriguing enough to hint that this could be a new track.
"Working on so many new songs I'm excited to show u! thank u for everything," she wrote at the time, according to Billboard.
With these clues, it appears Rodrigo's second sonic domination is imminent.