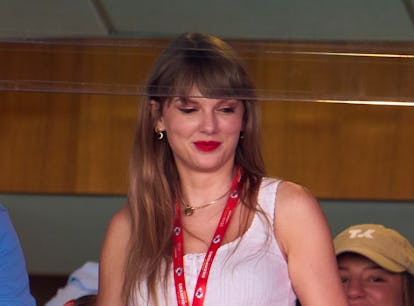 Taylor & Travis Are The IRL Gabriella & Troy, HSM Fans Have Decided
Taylor even accidentally re-created an iconic Gabriella moment.
Cooper Neill/Getty Images Sport/Getty Images
Have you been wondering why Taylor Swift's rumored romance with Travis Kelce feels so thrilling yet familiar? Well, it might be because you grew up watching High School Musical on repeat. After Swift cheered on her star athlete at the Sept. 24 Kansas City Chiefs game, everyone started to point out their similarities to Troy Bolton and Gabriella Montez with hilarious memes.
There may have been a whole NFL game playing out on the Arrowhead Stadium field last Sunday, but all eyes were squarely aimed at one of the audience boxes, where Swift was in full fan mode cheering for the Chiefs next to Kelce's mother. The appearance, which happened after nearly two weeks of rumors about Swift and Kelce potentially dating, finally made the relationship real for all of the Swifties, especially after the two were spotted leaving the stadium together and driving off for a private dinner.
But the real highlight of the event was fans getting to see Swift in a whole new light, excitedly cheering from the sidelines instead of being in the spotlight herself for once. The dynamic was quickly compared to Gabriella and Troy's star-crossed love story in the High School Musical movies. An edit of Swift and Kelce set to "Now or Never" from HSM 3 went viral, as fans compared Swift's show of support to Gabriella standing up among the crowd at Troy's basketball game.
Even the red and white color scheme of the Chiefs merch matches East High's signature colors. And we already know how much Swift loves the color red. "I would tell my children that it was High School Musical," one fan wrote above photos of Swift and Kelce.
With football season having just begun, here's hoping Swift delivers some more signature Gabriella moments as she continues to cheer on her football star.
However, fans shouldn't get their hopes too high when it comes to seeing Swift show up at more Chiefs games in the near future. Swifties might assume she'd be all over the Chiefs vs. Eagles game on Nov. 20, given that Swift is a vocal fan of her home-state team, but she'll be in Brazil on that date for the South American leg of her international Eras Tour. That leg does wrap up at the end of November, though, so maybe we'll get another Swift spotting at one of the Chiefs' December games.