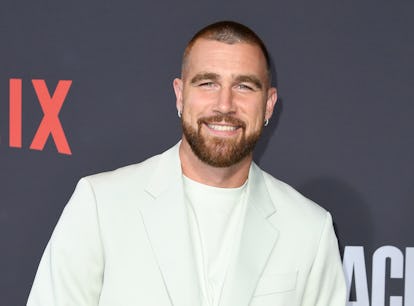 Travis Was "Shocked" When Taylor Shouted Him Out In "Karma"
She has the "guy on the Chiefs" blushing.
JC Olivera/Getty Images Entertainment/Getty Images
Swifties, it seems Midnights just received the (Travis' Version) treatment. After a two-month break, Taylor Swift resumed her Eras Tour in Buenos Aires, Argentina on Nov. 9. Her shows at the Estadio River Plate stadium were destined to be memorable, as her new boyfriend, Travis Kelce, was in attendance for the Nov. 11 concert. The singer subtly acknowledged Kelce throughout her performance, including adding a lyric change that put their romance front and center.
When Swift performed "Karma," her new man was clearly on her mind. She changed the track's original lyrics in the breakdown to, "Karma is the guy on the Chiefs, coming straight home to me," referencing Kelce's Kansas City football team. This revamped line (which needs its own re-released red vinyl) surprised both her background dancers and Kelce, who was in VIP tent with Swift's father, Scott.
As seen in a fan-captured video, the tight-end player smiled widely and covered his face. The romantic gesture also had Swifties giggling and kicking their feet; however, this wasn't the only sweet moment shared between the two that night. At the end of the show, a video of Swift running towards Kelce and kissing him went viral on social media.
Like many Swifties, it seems Kelce is still in a daze from the show. He reflected on Swift's shoutout in the Nov. 15 episode of his New Heights podcast, which he co-hosts with brother Jason Kelce.
"How does it feel to officially be 'the guy on the Chiefs?'" Jason playfully asked, prompting his sibling to laugh and respond. "You mean 'Karma?' Yeah, no. I had no clue. Well, I might've had a little bit of a clue. When I heard it come out of her mouth, it still shocked me. I was like, 'Oh, she really just said that.'"
While Travis didn't share the hints that led him to believe the "Karma" nod would happen, he realized one thing: He didn't fully celebrate the moment with Swift's dad. As seen in the video, Scott Swift held his hand up to high-five Travis; however, the NFL star was too stunned to return the favor. His brother also noticed the missed opportunity, and Travis swiftly (no pun intended) apologized.
"Yeah, Mr. Swift — I apologize, big guy. Oh man, I missed that. I never miss a high five, too," he said. "I'm a high-five guy. It's the most electric thing you can do at an event."
In another clip of the episode, Travis was in full proud boyfriend mode. He sung Swift her praises, adding she "absolutely ripped" and "killed" her performance. Stop, I can't.