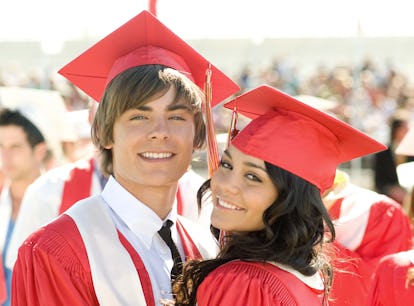 HSM Finally Revealed What Happened To Troy & Gabriella After Graduation
Disney
Back in the day, Troy and Gabriella's love story felt like something more than just the start of something new — but could the high school sweethearts really last outside of East High? The ending of High School Musical 3 sure made it seem hopeful, but now, 15 years later, we finally have an actual answer about Troy and Gabriella's relationship status in 2023. The final season of High School Musical: The Musical: The Series confirmed everyone's favorite Wildcat couple is still together as adults... but they're not exactly living the fantasy fans probably had in mind for them.
For its last hurrah, High School Musical: The Musical: The Series spilled so much tea about what the original High School Musical characters are up to nowadays. The season saw several notable East High alums returning to the school to stage High School Musical 4, which would center on the original HSM characters getting back together for their 15-year reunion. Corbin Bleu, playing a fictionalized version of himself, explained the movie's plot to the drama department: "It is our 15-year high school reunion. My character Chad is married to Taylor. Martha is a world-class choreographer. Troy and Gabriella are in couple's therapy. Ryan is happily partnered."
Yikes — it sounds like everyone's living the good life except for Troy and Gabriella. It may be heartening to know that the two are still together a decade-and-a-half after graduating, but the revelation that they're in couple's therapy definitely seems to suggest they've had some major issues in their partnership.
At another point in a scene for the High School Musical 4 movie, Martha suggests Troy, Gabriella, and Sharpay haven't been in contact with the rest of the Wildcats. "Have you seen Sharpay, Troy, or Gabriella?" Troy's father Coach Bolton asks. "Not yet, coach. They have been silent in the group chat," Martha responds. The moment is a meta joke about how Zac Efron, Vanessa Hudgens, and Ashley Tisdale were the only HSM main cast members not to return for the Disney+ series.
The final season of High School Musical: The Musical: The Series is streaming now on Disney+.
Don't have Disney+ yet? You can sign up here.