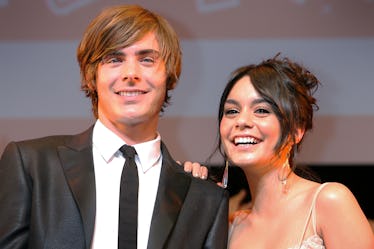 Why Troy Bolton & Gabriella Montez Are Still My Ultimate #RelationshipGoals
Kiyoshi Ota/Getty Images Entertainment/Getty Images
On New Year's Eve 2005, I had a group of my sleepover camp and synagogue friends over for a slumber party. After we saw a trailer for High School Musical, I rewound the TiVo to rewatch. In that moment, my sixth-grade self fell in love. My heart beat for Troy Bolton and there was nothing I could do to stop it. When I finally saw the movie on TV — on premiere night, Jan. 20, 2006 — Troy Bolton and Gabriella Montez's relationship from then on served as an ideal for me, even if no relationship I've had has lived up to it since.
From the moment they met in that ski lodge, during a forced karaoke competition and with a little foreshadowing from the matchmaker ("Hey you know what? Someday, someday you guys might thank me for this," the nameless matchmaker said), I had a romanticized version of what my love life might look like in high school. Unfortunately, 12-year-old me would be sorely disappointed in the years to come. My only karaoke encounter has been a fraternity mixer freshman year in college in which I drunkenly sang Christina Aguilera's "Beautiful" with a sister.
In the first film, Gabriella helps Troy realize he can pursue both basketball and musicals, going against the status quo, and she stands by his side throughout his family and friends trying to keep him from following his newfound passion for singing. Also, she has her own passions — scholastic decathlon, specifically — which she also balances among her academic friends, singing, and her boyfriend Troy. My passions for Disney Channel, One Direction, and my zodiac sign have been mostly minimized by romantic interests. Fun!
But of course, even with the two standing by one another, there are obstacles.
Troy defends Gabriella to his father, when his dad questions his son's "distraction" from basketball. "That girl is named Gabriella. And she's really nice," Troy tells him. It may not seem huge, but Troy sticking up for his girlfriend so early on in their relationship (did they even DTR at any point in being together? I digress) indicates how he values Gabriella as a partner, and won't take anyone putting her down. I wish I had that. My college boyfriend's dad wasn't a huge fan of me — maybe it was my non-traditional journalistic pursuits that weren't impressive enough — and my then-boyfriend didn't stand up for me in my physical absence, which hurt a lot.
Later on, Troy's team talks him into believing that Gabriella doesn't care about him so that Troy will focus more on basketball. When his teammates record Troy during this conversation (how does Troy not see the webcam? Or Chad turning it on?), things turn sour for Gabriella when she sees the tape.
"I swore I knew the melody that I heard you singing," Gabriella sadly sings in response to this horrific act of Troy's betrayal.
But, by the end of the first movie, they're invited to callbacks, Troy plays his basketball, and Gabriella does her science thing. High schoolers who are conventionally attractive and talented can have it all. Who knew! They're all in it together, well, until movie two.
In the next film, it's summer, so the gang heads to Sharpay and Ryan's family country club to work. Troy becomes jealous by seeing Gabriella with Ryan (which...never mind), and Gabriella has kind of had it with Troy playing along with Sharpay's shenanigans. Even idealized DCOM relationships have bumps in the road. Gabriella asserts her independence, not putting up with Troy's BS anymore, and goes her own way: she breaks up with Troy. Shout out to Gabriella for showing my 13-year-old self to not settle for crappy behavior. But, by the end of the film, again, things between Troy and Gabriella are neatly tied up with a song ("Everyday"), and after a year of dating, they kiss.
(May I just note how blue Troy's eyes are, and how shook he is when he notices Gabriella is his surprise duet? My. Heart.)
By movie three — which was legit enough to get a theater release that I saw during my freshman year of high school — Troy and Gabriella have to start thinking seriously about which colleges they'll attend. When Gabriella leaves senior year early for her Stanford freshman honors program, Troy gives the audience a lesson in how to be a dreamy and incredible long-distance partner by surprising her there, on East High Prom night, with a romantic dance ("Can I Have This Dance [Reprise]"). For me, senior year culminated with a prom spent over a dinner at Seasons 52 with my mom, aunt, and cousin, and I didn't get that dreamy-dress-up-with-a-date experience until sorority formal in college. Way to set the bar high, Troy and Gabriella.
"My prom is wherever you are," Troy says to Gabriella. I haven't stopped screaming since I saw this scene 10 years ago. While Gabriella was pursuing her academic future by starting early at Stanford, Troy made sure she wasn't missing out on a critical high school experience, and brought it to her. (And Gabriella is an all-star girlfriend, too — she stands in the basketball championship game, in the beginning of the movie, singing ["Now or Never"] to support Troy during the stressful game ending his high school athletic career. The East High Wildcats win.)
By the end of the trilogy, Troy and Gabriella make their relationship work by attending two schools that are roughly 30 miles from each other: University of California, Berkeley (was Troy smart?) and Stanford, respectively. While the logistics of their long-distance relationship were gleefully glossed over back then, I didn't question how they would make their relationship work. If their love got them through balancing musicals, basketball, school, and unsupportive friends, I'm sure Troy and Gabriella could make it through anything.
And while certain aspects of their relationship definitely didn't hold up as realistic once I was in a real one — for instance, calling your significant other the mascot of your shared school (I didn't call my NYU boyfriend "torch") — I know that I'll forever fondly look back on these two Wildcats. They showed me what it's like to go through life with a true partner: defying the odds, sharing passions, and with an absolutely unrelenting support for each other.