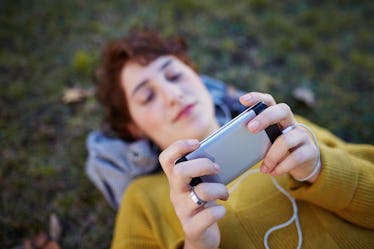 My Partner & I Did Long-Distance For 4 Years: Here's What Worked & What Broke Us Up
I got into my first serious relationship only two months after starting my first semester of college. We didn't meet in the dining hall or in my mandatory natural science lab. We met years before through family friends in my hometown. It wasn't until I moved away, though, that we realized how we felt about each other. For weeks, we considered ignoring our feelings and falling out of touch until we lived in the same area code again. Logically, I figured that would be easier than doing long-distance for four years. LOL! It wasn't and we caved fairly quickly. An LDR and a full, freshman course load — what could go wrong?
I think I learned more about myself by being in a long-distance relationship all throughout college than I did by actually being in college. For example, I struggled with classmates' attempts to belittle my relationship in favor of what they deemed the typical college experience (read: one-night stands and spring break hookups), even though I was happy in my relationship. Granted most of these jabs came from guys I'd turned down, but I had to learn how to own my decisions and stand up for myself when it came to discussing my personal life.
Ultimately, what I really learned from long-distance was endurance. With my partner's help, I learned what a relationship needs to work in the long-run, how to get through months at a time without seeing each other, and how to remain optimistic through it all.