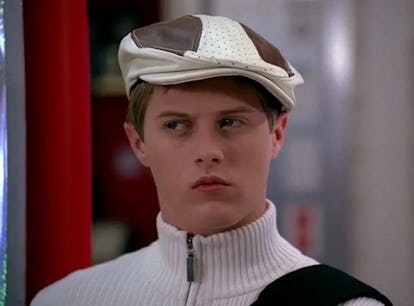 High School Musical Is Finally Letting Ryan Be Gay
It's about time, honestly.
Disney Channel
It's finally the start of something new for Ryan Evans. Back in high school, the hat-loving theatre kid never really got to be more than a backup dancer for his domineering twin sister Sharpay. But over a decade after graduating, he's breaking free. For years fans of the High School Musical movies latched onto Ryan as LGBTQ+ representation, even though his sexuality was never explicitly addressed in the movies, and now the final season of the sequel series High School Musical: The Musical: The Series is letting Ryan be gay.
HSM director Kenny Ortega confirmed Ryan was written to be gay back in 2020, but the movies never explored his sexuality because he "was concerned because it was family and kids, that Disney might not be ready to cross that line and move into that territory yet." Ortega said he and the writers imagined Ryan would come out in college, after the events of High School Musical 3. However, when Ryan first returned for High School Musical: The Musical: The Series, his sexuality was yet again brushed under the rug. But that's changing in the Disney+ series' fourth and final season. In a first look at the Season 4 premiere, Ryan is shown kissing a man (played by Pentatonix singer Scott Hoying), with the implication they are in a serious, loving relationship.
HSM fans who've waited years to see Ryan finally living his truth celebrated the moment on social media.
Ryan embracing his sexuality at long last is just one of the exciting things the final season of High School Musical: The Musical: The Series has in store for longtime fans. The farewell season will bring back a ton of original HSM stars as they film the long-rumored movie High School Musical 4 at East High... while the actual East High students struggle to put on a production of High School Musical 3 amidst the madness. Among the OG stars returning are Lucas Grabeel as Ryan, Corbin Bleu as Chad, Monique Coleman as Taylor, Kaycee Stroh as Martha, Alyson Reed as Ms. Darbus, and Bart Johnson as Coach Bolton.
Though there have been rumors about Zac Efron and Vanessa Hudgens possibly returning as well, it doesn't seem likely Troy and Gabriella will make it back to East High. But who knows? Find out how big the high school reunion will really get when the final season of High School Musical: The Musical: The Series drops on Disney+ on Aug. 9.
Don't have Disney+ yet? You can sign up here.