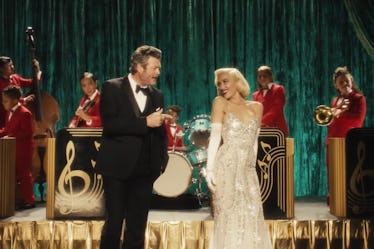 6 New Christmas Songs By Your Favorite Celebs That'll Put You In The Holiday Spirit
'Tis the season, everyone! Usually, that means that Mariah Carey's 1994 Christmas album will be played non-stop on the radio. And if you're like me and totally over listening to that album during this time of the year, then it's probably time to explore some new holiday music. Luckily for all you Christmas music lovers out there, there are new Christmas songs being released all the time. And by all the time, I really mean every year. And this year is no different! So, here are the best Christmas songs of 2018 that you definitely need to put on your holiday playlist!
1. "My Old Santa Claus" by Sia
Sia just released a deluxe version of her 2017 Christmas album Everyday is Christmas, and on it are quite a few gems that deserve your attention. Like "My Old Santa Claus," which is the most Sia-esque Christmas song I've ever heard. But it's so, so good! You can actually sample the whole album here.
2. "White Christmas" by Meghan Trainor
Looking for a new take on an old classic? Then Meghan Trainor's "White Christmas" is another song to add to your holiday playlist. The song is about as Christmas-y as you're going to get, so you can't go wrong with this one! Listen to it here.
3. "Bring Me Love" by John Legend
If you're looking for a song that's modern but has a classic Christmas feel, then John Legend's "Bring Me Love" is it! The song is upbeat, but it definitely puts you in the Christmas spirit. There's a bit of percussion, so you can clap your hands and tap your feet, and there are also a few jingles and jangles to make it seem like Santa's on his way. Oh, and of course, there's Legend's incredible vocals to tie it all together. Have a listen:
4. "Rockin' Around the Christmas Tree" by Pentatonix
Even Pentatonix is getting in on the Christmas music game with their own version of "Rockin' Around the Christmas Tree." The song has a jazzy kind of feel, which is great for curling up by the fire with a cup of hot cocoa. Give it a listen:
5. "This Christmas Day" by Jessie J
If you and your family are coping with loss this holiday season, then Jessie J's "This Christmas Day" is a song you need to hear. It's emotional, full of heart, and it might even make you shed a tear or two. Even if you haven't experienced loss recently, this song is so beautiful that it's worth sharing with the people you love anyway. You can listen to it down below:
6. "You Make It Feel Like Christmas" by Gwen Stefani and Blake Shelton
Back in 2017, Gwen Stefani and Blake Shelton collaborated in the studio to record "You Make It Feel Like Christmas." And now, a year later, they've finally made a video for it, and it's a total glam-fest! Check it out down below:
Now that you're equipped with a new holiday playlist, go forth and share it with everyone who loves good music!