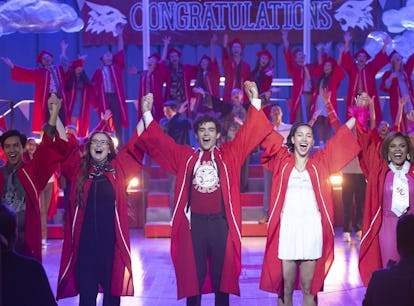 The High School Musical Series Is Ending This Month On Disney+
Disney+
It's almost time to say goodbye to East High... for good, this time. High School Musical: The Musical: The Series is officially coming to an end this August on Disney+, four years after it made superstars out of Olivia Rodrigo, Joshua Bassett, and more. And that's not the only reason to tune into Disney+ this month. The streamer is also releasing Guardians of the Galaxy, Vol. 3 for any Marvel fans who didn't see it in a theater, as well as premiering the highly anticipated new Star Wars series Ahsoka. Here's the rundown of when you can catch all the best new shows and movies on Disney+ throughout August 2023.
Wildcats will want to make sure they log into Disney+ on Aug. 9, which is when the whole final season of High School Musical: The Musical: The Series will be available to stream in full. The series-ending season will focus on the East High drama club putting on a stage version of High School Musical 3... but there will also be a ton of treats for original HSM fans throughout, because at the same time, various High School Musical stars will be returning to East High to film the long-awaited (but sadly fictional) High School Musical 4. A first look at the season revealed several main HSM cast members will be making their return to East High, and the season will finally show Ryan Evans in a loving relationship with a man.
August will also be big for sci-fi fans with Disney+ subscriptions. Guardians of the Galaxy, Vol. 3 will be available to stream for the first time starting Aug. 2, nearly three months after it premiered in theaters. And the new original series Ahsoka, a hotly anticipated spinoff of The Mandalorian, will debut on Aug. 23.
Here's the full list of everything coming to Disney+ this August.
Aug. 2
Guardians of the Galaxy, Vol. 3
Farm Dreams
Star Wars: Young Jedi Adventures (6 episodes)
How Not To Draw Shorts (5 episodes)
Kiff (4 episodes)
Aug. 4
Aug. 9
High School Musical: The Musical: The Series (Season 4)
Chibi Tiny Tales Shorts (11 episodes)
Dino Ranch (9 episodes)
Aug. 11
Retro Mickey Mouse cartoons:
Barnyard Olympics (1932)
Donald's Cousin Gus (1939)
Donald's Nephews (1938)
The Flying Jalopy (1943)
Goofy and Wilbur (1939)
Mickey's Steam Roller (1934)
Aug. 16
Disney Junior Wonderful World of Songs (10 episodes)
Hamster & Gretel (4 episodes)
The Villains of Valley View (6 episodes)
Wicked Tuna (20 episodes)
Aug. 17
The Wonder Years (Season 2, 10 episodes)
Aug. 18
LEGO Disney Princess: The Castle Quest
Aug. 23
Star Wars: Ahsoka (Episodes 1 and 2)
Aug. 25
Cinderella (restored in 4K)
Explorer: Lost in the Arctic
Aug. 30
Star Wars: Ahsoka (Episode 3)
Chip 'n' Dale: Park Life (Season 2)
Kiya & the Kimoja Heroes (6 episodes)
Pretty Freekin Scary (6 episodes)
Rewind the '90s
Don't have Disney+ yet? You can sign up here.