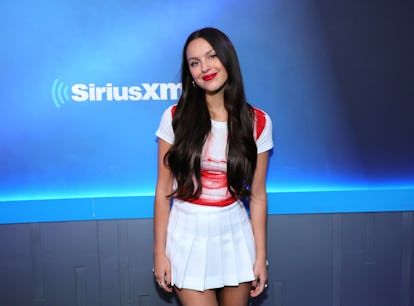 Olivia Responded To The Swiftie "Conspiracy Theories" About Her Album
She's heard what people are saying about "the grudge."
Theo Wargo/Getty Images Entertainment/Getty Images
Yes, Olivia Rodrigo has heard the gossip. After she released her sophomore album GUTS, several lyrics got over-analyzed and a narrative began to form that Rodrigo was taking shots at her former idol Taylor Swift in some of her new music. But Rodrigo denied there's any bad blood between herself and Swift when asked in a recent interview. She simply brushed off all the online chatter as "conspiracy theories."
"I don't have beef with anyone," Rodrigo said in her Sept. 12 Rolling Stone cover story. "I'm very chill. I keep to myself. I have my four friends and my mom, and that's really the only people I talk to, ever. There's nothing to say."
The statement was in response to the inescapable rumor that Rodrigo had a falling out with Swift, and that some of her most brutal GUTS songs are aimed at the pop star. First, there was the fan theory that Swift was the "bloodsucker" Rodrigo was singing about in "vampire," then came the even more convincing idea that her betrayal ballad "the grudge" was inspired by Swift. Rodrigo dismissed these speculative readings of her lyrics: "There's so many Twitter conspiracy theories. I only look at alien-conspiracy theories.."
These conspiracy theories about alleged beef between Rodrigo and Swift first sprung up in 2021, after Rodrigo had to give Swift 50% of the royalties on her single "deja vu" due to similarities to Swift's song "Cruel Summer." Before that, Rodrigo and Swift were incredibly close, frequently sending each other gifts and posting about one another. But fans noticed that they suddenly stopped interacting after that royalties issue, and seemed to take subtle digs at one another.
Rodrigo also spoke about that sampling controversy in her Rolling Stone profile, admitting she didn't see anything like that coming. "I was a little caught off guard," Rodrigo said. "At the time it was very confusing, and I was green and bright-eyed and bushy-tailed... I don't think I would ever personally do that. But who's to say where I'll be in 20, 30 years. All that I can do is write my songs and focus on what I can control."