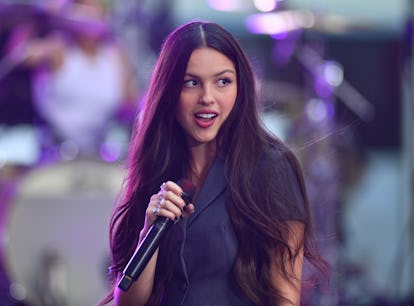 Olivia Is Facing Sampling Drama Again With 1 Miley Soundalike GUTS Song
Olivia Rodrigo doesn't just deliver the catchiest pop-punk choruses ever when she drops an album; she also brings the drama. While fans have already been busy theorizing which ex may have inspired which track or dissecting the Swiftian Easter eggs hidden in the songs, a familiar piece of controversy also reared its head once again. Following the release of GUTS, clips began going viral comparing the chorus of its opening track "All-American B*tch" to the throwback Miley Cyrus song "Start All Over." Rodrigo has infamously dealt with sampling drama in the past, which resulted in her losing millions in royalties on two of her biggest singles.
In "All-American B*tch," Rodrigo takes aim the impossible standard placed on modern women, bouncing back and forth between breezy, folksy verses and an explosive, screaming chorus. It's this chorus that caught the attention of Miley Cyrus fans in particular, who began sharing videos stitching it together with the chorus of Cyrus' 2007 single "Start All Over." Both choruses begin with a similar cadence, as both Rodrigo and Cyrus drag out the word "forget" over a driving guitar beat.
Unfortunately, Rodrigo's past issues with sampling started out similarly, with fans posting mashups of her songs with other artists' hits. After the release of her debut album SOUR in 2021, two songs were given retroactive writing and production credits, with Rodrigo losing 50% in publishing royalties on both singles. Because of comparisons between her song "Deja Vu" and Taylor Swift's "Cruel Summer," Rodrigo gave up half its royalties to Swift, Jack Antonoff, and Annie Clark. And after mashups of "Good 4 U" and Paramore's "Misery Business" went viral, band members Hayley Williams and Josh Farro were given writing credits and 50% of the song's royalties as well.
The controversy is rumored to have caused a fallout between Rodrigo and Swift in particular, who used to be incredibly close but haven't spoken much about each other recent years. It's unclear what might happen if the Cyrus comparisons with "All-American B*tch" continue to grow.
Check out the new track for yourself below: