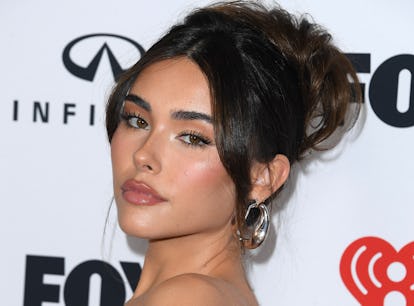 Madison Beer May Have Just Revealed Who Olivia Rodrigo's "Vampire" Is About
Steve Granitz/FilmMagic/Getty Images
Olivia Rodrigo's vampire may not be lurking in the shadows anymore, and it's Madison Beer who's shining a light on him. Ever since Rodrigo's ferociously pointed single "vampire" was released, fans have been obsessed with trying to figure out who it's about. The dark and moody power ballad paints a grisly picture of an ex who used Rodrigo for fame and put her through "six months of torture." Now, Beer has entered the chat, and her response to the song's success is definitely raising some eyebrows... because she also dated the rumored "vampire" in question.
The growing consensus among Rodrigo's superfans is that "vampire" is about her ex-boyfriend Zack Bia, a DJ she dated for six months in 2022. A surprising piece of evidence supporting this theory is actually Beer's 2020 single "Selfish." Beer released that song shortly after her breakup with Bia, and it's another damning ballad that's heavily rumored to be about him. Not only does Beer sing that she was with her toxic ex for "almost two years" — which is the length of her relationship with Bia — she also laments that he is "such a Gemini," which is Bia's zodiac sign.
Once "Selfish" resurfaced, fans were quick to point out the similarities between the ex Beer was singing about and the one Rodrigo is targeting in "vampire." Most notably, both songs are about a narcissistic manipulator who is a chronic liar. In "Selfish," Beer states that all her ex ever wanted to do was go out to nightclubs, which sounds similar to Rodrigo's ex who "only come[s] out at night."
When a chart data fan account tweeted that "Selfish" had its biggest streaming day in months following the release of "vampire," Beer knew exactly who to thank. "Thank you miss olivia <3," Beer wrote, acknowledging her song's resurgence is due to its connection to "vampire."
Beer went on to gush about Rodrigo's new song in the replies to that tweet, praising how well the track shows her growth.
Beer's love for the single has added even more fuel to the fire for Rodrigo fans, who seem more sure than ever that "vampire" must be about Bia.
Unfortunately, fans may never actually know the truth, though. When rumors blew up about the ex Rodrigo was singing about in her debut single "drivers license," the singer never officially confirmed who the song was about. So all these "vampire" theories will likely remain just theories forever.