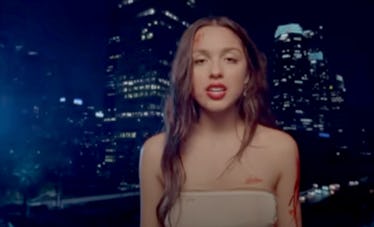 Olivia Rodrigo Fans Think They Know Who "Vampire" Is About, & It's Not Joshua Bassett
There are so many clues in the lyrics.
YouTube
Like every great singer-songwriter, Olivia Rodrigo has a talent for tapping into her own personal struggles to create intimately relatable music. It's what made her debut single "drivers license" such a huge success, and it's also why everyone is talking about her latest release "vampire." Like her first single, "vampire" is all about a toxic ex-boyfriend, meaning listeners are once again preoccupied with figuring out who the titular bloodsucker could be. Joshua Bassett is off the hook this time, it would seem — rather, a pair of Rodrigo's more recent exes are at the center of all the theories about the scathing new power ballad. Here are all the clues fans have picked up about whether "vampire" is about Adam Faze or Zack Bia.
Back when Rodrigo released "drivers license" at the start of 2021, it quickly sparked tons of theories that the breakup ballad was about her High School Musical: The Musical: The Series costar Joshua Bassett. Though that rumor has never been officially confirmed, it's become inseparably connected to the song, and it already sounds like "vampire" may have a similar IRL connection. Bassett can rest easy this time, because Rodrigo's new single about an older ex who preys on younger, famous women doesn't seem to be about him. Instead, two other possible inspirations are at the center of all the theories.
The first is Adam Faze, a producer whom Rodrigo briefly dated in the summer of 2021. Not only would the former couple's age gap fit with the "vampire" lyrics (Faze is six years older than Rodrigo), but fans also think the single's release date was a big clue. The song dropped on June 29, exactly two years after Rodrigo and Faze were first linked when they were spotted getting cozy at a theme park on June 29, 2021.
However, as these theories were popping up, People reported that an inside source told them "the song isn't about Adam Faze."
Faze isn't Rodrigo's only ex who seems to fit the bill for "vampire," though. Some fans are convinced the song is actually about her most recent ex, Zack Bia. The DJ is also notably older than Rodrigo (seven years, to be precise), and the song's lyrics do seem to be more specific about their relationship. In the first verse, Rodrigo sings about "six months of torture," which is exactly how long she and Bia dated. His profession as a DJ also seems to fit with the lyric about Rodrigo's ex would "only come out at night."
As with "drivers license," we may never actually get official confirmation about who "vampire" is about, but fans will certainly cling to their own theories.