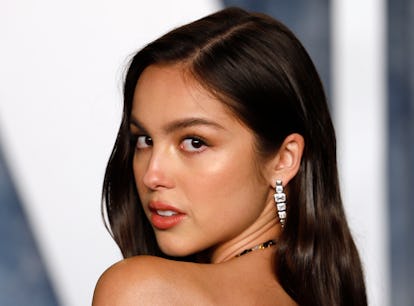 Olivia Rodrigo's Rumored Dating History Is V Intriguing
It doesn't sound too sour.
Robert Smith/Patrick McMullan/Getty Images
Olivia Rodrigo's music has sparked a lot — like, a lot — of interest in her dating life, lest we forget the "Drivers License" saga of 2021. Though Rodrigo never fed into the drama (and the rumored love triangle between her, Joshua Bassett, and Sabrina Carpenter), she continued to release heartfelt and heartbreaking songs. "Vampire," Rodrigo's first single from her sophomore album Guts, came out on June 30 — and there's already plenty of speculation about the song's inspiration.
In the song, Rodrigo sings about a six-month relationship that sounds very toxic. "The way you sold me for parts / As you sunk your teeth into me, oh / Bloodsucker, fame f*cker / Bleedin' me dry like a goddamn vampire," the lyrics read. (Ouch.) Though Rodrigo has kept her recent romances private, it seems clear she's got bad blood — vampire pun intended — with someone.
Back in January 2021, when asked by Billboard whether a cetain someone (Bassett) inspired her breakup music, Rodrigo gave a cryptic response. "I totally understand people's curiosity with the specifics of who the song's about and what it's about, but to me, that's really the least important part of the song," she said about "Drivers License." "It's resonating with people because of how emotional it is, and I think everything else is not important."
Fans likely won't hear from Rodrigo herself about who inspired her new track, but if you want to take your best guess, here's a rundown of Rodrigo's dating history.
Here's to more lyrical analysis as Rodrigo releases more of Guts.
This article was originally published on