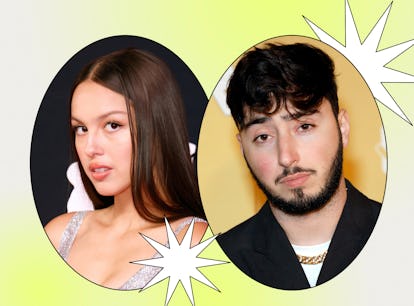 Is Olivia Rodrigo's "Vampire" About Zack Bia? He Weighed In
On her second album, Guts, Olivia Rodrigo didn't hold back. "Vampire," the first single, is a scathing song about a callous ex (or, if you believe the rumors, potentially Taylor Swift). After the song's release on June 30, many fans speculated the lyrics were a reference to Zack Bia, Rodrigo's ex. But in a Sept. 18 profile for GQ, Bia addressed the rumors that "Vampire" was about him — and the DJ wasn't convinced he was the song's inspiration.
Almost immediately after "Vampire" came out, fans pointed out that some of the lyrics lined up perfectly with Rodrigo and Bia's romance. For one, Rodrigo sings about "six months of torture" — Bia and Rodrigo reportedly dated for six months in 2022. She also sings about an age gap in the song. Bia is 27, while Rodrigo is 20. Even Madison Beer, another one of Bia's exes, seemed to think "Vampire" was a reference to their shared ex. After the track's release, Beer's own song "Selfish" (also speculated to be about Bia) went up in the charts. Beer shared the achievement, writing, "Thank you miss olivia <3."
Despite the speculation, Bia told GQ he didn't think the song was inspired by their relationship. "I don't think it's really about me. I think the internet just ran with it," he said. However, Bia admitted that their relationship could have played some role in creating an imagined vampiric character. "Look, I'm in the industry so I know how a song gets made," he said before explaining that their romance wouldn't be worthy of a breakup bop. "We hung out, we're both busy, and we ended up not furthering our relationship. There was never any drama, you know?"
TBH, no one would want to claim to be the "bloodsucker, famef*cker" Rodrigo is singing about. In "Vampire," she retells the traumatic story of a someone taking advantage of her naiveté: "The way you sold me for parts / As you sunk your teeth into me, oh / Bloodsucker, famef*cker / Bleedin' me dry, like a goddamn vampire." According to the song, this particular ex didn't have many redeeming qualities. She sings, "You said it was true love, but wouldn't that be hard? / You can't love anyone, 'cause that would mean you had a heart."
During the GQ interview, however, Bia didn't seem to be holding onto any hard feelings toward Rodrigo. "The song's so big and so awesome," he said about "Vampire," adding that "a heartbreak song for the summertime" was an "undefeated formula."
Bia also explained why he hadn't put a stop to the rumors earlier. "Look, the momentum of a song is so special," he said. "I think Olivia is a generational songwriter. I think she's a generational talent. I'm always just proud of her continued accomplishments."