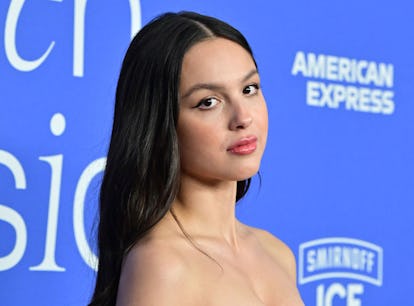 Olivia Addressed The Rumors That "Vampire" Is About Taylor Swift
They've reportedly been feuding recently.
Olivia Rodrigo's ferocious single "Vampire" made enough noise to wake the dead, but the rumor mill surrounding the song has been even louder than the belting chorus. Initially, fans assumed the scathing lyrics were directed at one of Rodrigo's ex-boyfriends, but upon deeper dissection, an even more surprising theory began to materialize. The speculation is that Rodrigo was inspired by her rumored feud with Taylor Swift when penning the song about a vampiric entity who has been bleeding her dry. Well, Rodrigo has heard the rumors, and finally addressed them in a recent interview.
The Swift theory was formed a few days after "Vampire" was released at the end of June, as fans familiar with the situation posted their convictions that the track must be about Swift. Although the subject of the song itself is an ex-boyfriend, the theorists believe Rodrigo wrote it that way to throw people off the track's true target. The belief is that Rodrigo is using the song to express her frustration over royalties drama with Swift, which resulted in Rodrigo having to give her childhood idol a songwriting credit and royalties for her song "Deja Vu" due to its similarity to Swift's "Cruel Summer."
When Rodrigo was asked about his theory during a Sept. 2 interview with The Guardian, she didn't really want to get into it. "How do I answer this?" Rodrigo said. "I mean, I never want to say who any of my songs are about. I've never done that before in my career and probably won't. I think it's better to not pigeonhole a song to being about this one thing. I was very surprised when people thought that."
The "Vampire" theory is part of a larger fan speculation that Rodrigo and Swift may have had a falling out recently. Prior to the Sour royalties drama, Rodrigo and Swift were incredibly close. Rodrigo often gushed over Swift and her music as a superfan, and Swift reciprocated by taking photos with Rodrigo and supporting her releases. However, the two have notably stopped interacting ever since the royalties issue. When Swift announced Sabrina Carpenter as the opener for the Latin American date of her Eras Tour, Rodrigo's fans took it as a slight. Carpenter is widely believed to be the rival Rodrigo sang about in her debut single "Drivers License."
As Rodrigo has said, she's never going to reveal who her songs are really about, so fans are just left with their theories on this one.