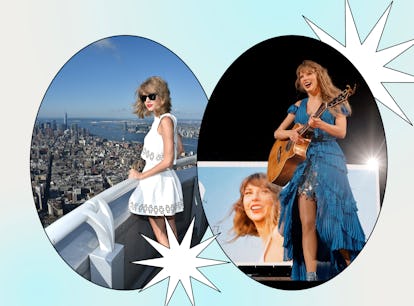 Swifties Are Debating If 1989 Is A Beach Or City Album On TikTok
Fans noticed a definite vibe shift from the OG release.
Dimitrios Kambouris/LP5/Getty Images Entertainment/Getty Images/Kevin Winter/TAS23/Getty Images Entertainment/Getty Images/Elite Daily
When an album starts with a song titled "Welcome To New York," it's kind of safe to assume it's a city album — or, at least, that's what Swifties thought. Taylor Swift's original 1989 came out when the singer was living her best life in New York City with a squad of besties. You would think a chance to revisit the era for 1989 (Taylor's Version) would be a return to Manhattan for Miss Swift — after all, the OG album was filled with pictures taken in and around NYC. However, the new cover art and Swift's recent posts have fans on TikTok debating if 1989 is a beach or a city album.
The original 1989 cover, part of a series of snaps taken during Swift's writing process, was a simple polaroid picture of the singer from the nose down, wearing a sweatshirt with seagulls on it. A good amount of these instant photos were taken on the ferry in NYC, and many fans have thought the album was an homage to Swift's time in the Big Apple.
After all, in 2014, the "Style" singer was constantly seen leaving her downtown apartment, grabbing drinks with Karlie Kloss in the West Village, and sporting her classic red lipstick as she walked around Greenwich Village.
So, when she revealed the cover art for 1989 (Taylor's Version) and its deluxe versions, which features photos of Swift laying in the sand and dipping her toes into the water, it sparked a debate on TikTok. Fans have been arguing if 1989 is a beach or city album, using clues and Easter eggs in Swift's outfits and Instagram posts to back up their opinion — with some Swiftie conspiracy theorists believing that she's intentionally blurring the lines between the different aesthetics to hint at the re-release being two separate albums.
To help break it all down, here is where the Taylor Swift 1989 beach versus city album debate lands so you can decide for yourself ahead of the release on Oct. 27.
The Case For 1989 Being A City Album
In a 2014 interview with Good Morning America, Swift hinted at New York City's significance to her when explaining why she picked "Welcome to New York" as the album's first track. "New York has been an important landscape and location for the story of my life in the last couple of years," she said.
In addition to the first track, 1989's discography has more of a city feel. Other songs from 1989 that give off more city vibes include "Style," "All You Had To Do Was Stay," "Bad Blood," and "New Romantics," according to fans.
The Case For 1989 Being A Beach Album
Beach truthers, on the other hand, have always viewed the album as a Hamptons-inspired tribute. Seagulls became synonymous with the 1989 era because of Swift's sweatshirt, and the music video for "Out of the Woods" was also set on the beach.
In fact, the one thing that remains on both the 1989 and 1989 (Taylor's Version) covers are seagulls, which are known for hanging out by the beach. The 1989 color palette has always been light blue as well, and the new album cover follows the trend with the sky in the background.
In addition to songs on 1989 that fit into the beach category, like "Out of the Woods," "Wildest Dreams," and "This Love," Swift closes out the album with "Clean," a song about moving on from a relationship that uses a lot of water imagery. And if 1989 does take place in the state of New York, it could be primarily set in a seaside location and not specifically NYC. TikToker @simpofthesapphics has a theory that 1989 is based on Fire Island, which is located just south of Long Island.
When Swift released the live version of "Cruel Summer" from the Eras Tour movie a little over a week before 1989 (Taylor's Version) on Oct. 27, she announced the drop on Instagram with some very summery photos — another win for the beach album side since the singer is known for scattering clues to her next album in everything from clothes to music videos.
The Case For 1989 Being A City Album And Taylor's Version Being A Beach Album
Instead of rooting for one theme versus the other, some Swifties believe that 1989 is both a city and beach album. New York City does have its share of beaches, like Coney Island. Plus, the songs could be telling the story of someone going from the city to the beach, which explains why it begins with "Welcome to New York" and ends with "Clean." The doubling down on the beach theme specifically for Taylor's Version could also be in response to Swift's personal growth or tapping into the trendy coastal granddaughter aesthetic, as TikToker @chickyven points out.
Transitioning from a NYC to a generic beach album also makes 1989 more accessible to all Swifties — more people have been to a beach than those who have lived in New York City. TikToker @notnathanlane believes that by making 1989 "more appealing" to everyone, it's a good marketing move. Following what's trending, Swift could also be inspired this time around by what's on TV.
During the first 1989 era, one of the most popular shows was Girls starring Swift's bestie Lena Dunham, which romanticized being a young messy artist in New York City. TikToker @chickyven believes that 1989 has always been representative of an "aspirational version of NYC," which at the time was Dunham's Girls. It showed the chaos of getting your life together in your early 20s in a new city — much like Swift moving to Manhattan and snapping blurry polaroids of her adventures.
Now, the NYC dream is to be wealthy enough to get out of the city and live on the coast, like in The Summer I Turned Pretty. Notably, the show, which is set in seaside Cousins Beach, features a few Swift songs on its soundtrack, including 1989's "This Love (Taylor's Version)" in Season 1. As one fan notes, this change in theme "gives this whole album a very fresh perspective and direction." It's a fun change for the re-record.
The Case For 1989 Being A Double Album With City And Beach Versions
There's also a chance that there could be a city version of 1989 (Taylor's Version) to come. As part of the 1989 double album theory, some fans believe the second record will have a city theme and include collabs like "Bad Blood" featuring Kendrick Lamar.
While you can find evidence for either case, the one universal truth is that 1989 is an album you can enjoy whether you're walking down Times Square or watching the sunrise over the ocean. It's a bop in the city and by the beach.