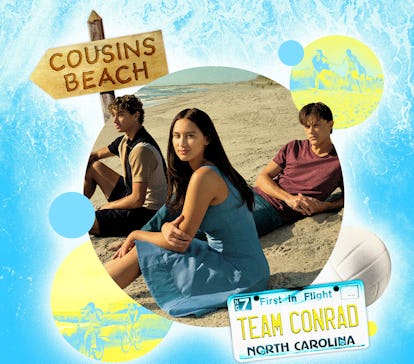 15 Hours In Cousins Beach From The Summer I Turned Pretty
Plan your own getaway with the Taylor to your Belly.
Prime TV/Elite Daily
Summer is the perfect time to unwind, escape, and maybe even fall in love — much like Isabel "Belly" Conklin does when she goes to the Fisher family beach house in The Summer I Turned Pretty. The YA book-turned-television sensation is set against the backdrop of Cousins Beach, a fictional beach town where everyone is beautiful, summer never ends, and new crushes blossom over beach bonfires and late-night swims. Ahead of Season 2's release on July 14, I put together my own one-day Summer I Turned Pretty road trip to check out all of the filming locations and have my own Cousins Beach experience — minus the Belly-Jeremiah-Conrad love triangle, of course.
You technically can't visit Cousins Beach IRL — in the show, it's located somewhere in Massachusetts — but The Summer I Turned Pretty was actually filmed in various locations throughout Wilmington, North Carolina. Affectionately known as "Wilmywood," the popular beach town was also the setting for other TV shows I love like One Tree Hill and Dawson's Creek, which made me even more excited to visit.
From the country club where Jeremiah worked to the store where Belly picked out her debutante dress, The Summer I Turned Pretty Season 1 immersed viewers into the world of Cousins Beach with plenty of beach town vibes scattered throughout. Here's every stop I made along the way on my TSITP itinerary.
How I Spent One Day On A The Summer I Turned Pretty Trip
8:00 a.m.: I woke up and grabbed breakfast at my hotel, which was Dreamers by DW bed and breakfast. Unfortunately, the Cousins Beach house that Belly and her family stay at doesn't exist IRL — while the exterior shots of the house are from a real Wilmington home in a private community, the interior shots were filmed on studio sets built at Wilmington's Screen Gems Studios. However, the pastel colors, bright windows, and coastal aesthetic of the bed and breakfast did feel very much in line with the vibe of the show. There are six rooms total in the house, so if you have a ton of superfan besties, you can book up the entire house to have to yourself.
10 a.m.: I went to Camille's of Wilmington right when it opened so I could look around before any brides stormed through. This is where Belly, Susannah, and Laurel go to try on dresses for Belly's debutante ball, and the dressing room scene was shot in the back of the store. IRL, Camille's sells stunning bridal gowns, bridesmaids dresses, prom dresses, and any other special occasion dress you can think of, and I had fun browsing through the selection for 15 minutes. I drove to the store, but it would also be easy to Uber there if you don't have a car.
10:45 a.m.: The next stop on my The Summer I Turned Pretty itinerary was the Cape Fear Country Club, which is about a 20-minute drive from Camille's. This is a super exclusive, members-only club so you can't use the pool unless you're a member, and I got the vibe the employees weren't too pleased that a superfan was poking around. However, I managed to sneak a peek at what I was really there to see: the swimming pool where Jeremiah and Steven worked as lifeguards and servers. The exterior shots of the country club in the show, as well as the pool and some interior cotillion shots, were all filmed here. If you live in the area, you can become a member if you have a referral and get accepted.
11:20 a.m.: For my next stop, I went where Belly and her friends hosted their volleyball tournament for charity. This scene was shot at Capt'n Bill's Backyard Grill and Volleyball Facility, which is just a 10-minute drive from the country club. It's a sports bar where you can actually sign up to play volleyball, just like Belly did. Plus, it opens at 11 a.m. on Saturday and Sunday, so you can grab a mimosa (if you're 21+) or brunch while you watch a game. This location really made me feel like I was in the show; it has the same vibe, and you can catch a game or play your own in the sand volleyball pits.
12:00 p.m.: I stopped for a long lunch at Brasserie du Soleil, which is 13 minutes away. It's a favorite amongst celebs who are in Wilmington to shoot their TV shows and movies. I even saw Joshua Jackson from Dawson's Creek when I sat down for my res, so there's a chance you'd get lucky with a Lola Tung (Belly Conklin) or Gavin Casalegno (Jeremiah Fisher) sighting.
2:00 p.m.: I took a 5-minute drive from Brasserie du Soleil to the beach that was used in the background of the entire series, Wrightsville, along with Kure Beach and Carolina Beach. That means that the IRL "Cousins Beach" is actually along the coast of Wilmington. I took a walk along Crystal Pier on Wrightsville Beach to soak in all the natural beauty. I have never been to a North Carolina beach before, but it was just as pretty as it was in the show. When you look out into the water when the sky is the perfect shade of blue, you can't help but believe, like Belly, anything is possible this summer.
4:00 p.m.: There are a lot of The Summer I Turned Pretty scenes filmed in a bookstore, like when Laurel met her new man and hosted her book launch party. That's an actual IRL bookstore called Papercuts that's located on the very bustling Market Street in downtown Wilmington. The inside of the store is a book lover's dream, and it looked pretty similar to how it appeared in the show. There are even comfy couches you can relax into when you find a good book. Of course, I had to snag a photo of the updated book cover of The Summer I Turned Pretty featuring the Prime TV show characters on the front.
6:00 p.m.: Unfortunately Belly and the gang have most of their meals in their epic beach house, so I stopped at a local seafood restaurant called Manna for dinner to enjoy some of the beach town specialities. Manna is an upscale American restaurant that's located right on the main strip of downtown Wilmington on Princess Street, and it's walkable to many bars in the area. I tried the chef's special dressed up oysters, which were delicious.
8:00 p.m.: Within walking distance of Manna is a great bar called Bluepost Billiards (One Tree Hill and Good Behavior filmed here, so it's worth a visit if you're a fan). I stopped here for a quick drink before calling an Uber over to my next stop, the Fat Pelican. This is about 30 minutes away from Manna, and closer to Wrightsville Beach, so you can also add this stop to your beach walk if you don't want to go back in the opposite direction.
9:30 p.m.-11 p.m.: I ended my night at the Fat Pelican, which is where Laurel and Susannah had their BFFs forever night out. The drinks were delicious and affordable, and the neon lights make the perfect Instagram background for your bestie pics. After grabbing a cocktail with friends, I headed back to the hotel.
No matter how you spend your time in Wilmington, the dreamy summer vibes The Summer I Turned Pretty is known for were ever-present. Whether you do a filming location tour like I did or visit for an idyllic beach vacation getaway, it's the perfect escape to bond with the Taylor to your Belly — or even find your own summer romance.
The Summer I Turned Pretty Season 2 premieres on Prime Video on July 14.