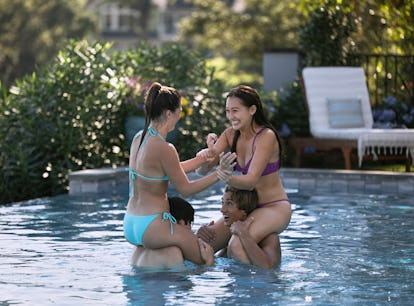 10 Airbnbs Like The Summer I Turned Pretty House To Rent For A Magical Stay
It'll be like you're vacationing in Cousins Beach.
Peter Taylor/Prime Video
Prime Video's The Summer I Turned Pretty has quickly become the must-watch show of the season. Based on the books by Jenny Han, TSITP follows Isabel "Belly" Conklin and her family as they vacation in Cousins Beach for the summer with their family friends, the Fishers. The Fishers' beach house comes with stunning waterfront views and a pool for Belly's daily night swims. It's the ideal place to spend the season, and these Airbnbs like The Summer I Turned Pretty house are just what you and your friends need for your very own seaside escape.
If you had your heart set on visiting Cousins Beach for yourself, unfortunately, the town from the series doesn't exist IRL. However, we find out during the show that Cousins Beach is located somewhere in Massachusetts, which makes sense considering it has a very Cape Cod feel to it. You could always plan a summer vacation to Cape Cod with your besties like Belly, Conrad, and Jeremiah, but there are also plenty of other Airbnbs like The Summer I Turned Pretty house you can rent all over the U.S.
All you really need for a The Summer I Turned Pretty Airbnb is easy access to the beach, a pool for swimming in at night, and a living room big enough for practicing your dance moves. Each one of these 10 Airbnbs give off a The Summer I Turned Pretty house vibe, so text your besties ASAP to start planning your own unforgettable summer getaway.