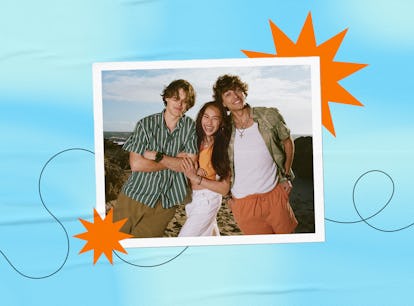 The Summer I Turned Pretty Cast On The New AE Collab & Fave Y2K Trends
Lola Tung also weighs in the fashion easter eggs you can spot in Season 2.
Elite Daily/Courtesy of American Eagle
We may receive a portion of sales if you purchase a product through a link in this article.
When Isabel "Belly" Conklin returns to Cousins Beach for The Summer I Turned Pretty Season 2, she'll have some big decisions to make about her Fisher brother love triangle. Whether you're rooting for Team Jeremiah or Team Conrad (or Team Belly, because let's be honest, it's too hard to choose), American Eagle's new The Summer I Turned Pretty collab makes it easy to rep your fave character — and dress like them, too. "[The collection] has a Cousins rowing shirt. ... It has to be my favorite because it's so in the world [of The Summer I Turned Pretty]," Christopher Briney, who plays Conrad Fisher, tells Elite Daily in an exclusive interview with Gavin Casalegno (Jeremiah Fisher) and Lola Tung (Belly Conklin).
It's fitting that AE's second The Summer I Turned Pretty collection encourages fans to really integrate the Cousins Beach aesthetic into their own wardrobes. There are a few nods to details from the show — including an "infinity" trucker hat and hoodie for Belly and Conrad (aka Bonrad) shippers — but most of the line has beachy essentials like the ones you'd see the characters wearing on the show. Scrolling through the line, you'll see some cute crochet corset tops and mini dresses that look like a typical Belly 'fit, and the collection's colorful board shorts and button-ups could easily belong in Conrad or Jeremiah's closet.
Below, the show's three leads dish on their favorite pieces from the new American Eagle collection, the statement pieces their characters swear by in Season 2, and why they're so here for the Y2K style comeback. You may even get a little teaser about what to expect from their characters' wardrobes in the upcoming season before it premieres on July 14.
This interview has been edited for length and clarity.
Elite Daily: So happy to see another AE x The Summer I Turned Pretty collab! How does this one differ from the first collection?
Christopher Briney: I think it's more on the nose, honestly, because it has more options for summer clothes. I'm a fan of the shorts and the Cousins rowing shirt, which is really cool.
ED: Lola and Gavin, what are your favorite pieces from the new arrivals?
Lola Tung: I'm a big fan of the Team Belly shirt because I am Team Belly's No. 1 supporter. People forget that's an option other than just Team Conrad and Team Jere.
Gavin Casalegno: I love the resort shirts. There are some that have really cool color palettes and that work with so many other outfits.
ED: Do you think your character would have the same faves, or do you have totally different styles?
LT: I think Belly would probably have the same favorite, but there are some cute floral dresses that I think she would love. She loves a good floral print, and AE does that really well.
CB: I think Conrad would want a Team Conrad shirt, actually. I feel like he's the type to wear his own name on his shirt.
GC: Yeah, he's ironic. I'd say Jeremiah would probably wear the resort shirts. I think that's definitely his style — loose and beachy.
ED: Are there any Season 1 style nods or Easter eggs fans can look out for in Season 2?
LT: I don't want to spoil anything, but there are some moments she's looking through her closet and you see some callbacks to Season 1. I think the cool thing is that their style has evolved so much because of everything they've been through, and that they've grown so much. And it's cool to see growth not only in them, but in their style and clothing too. There are definitely some Easter eggs to look out for.
ED: Outside of the show, you three are also a group of trendsetters. What are some trends you're loving?
CB: I'm so here for Y2K. Like, 10 years ago, it was regarded as one of the worst eras in fashion ever. But people were sleeping on it. Dude, I think we should lean into that.
GC: I love people kind of doing the Y2K with some of the modern styles as well. It's like a mix of edgy and and fashionable, which is fun. I'm a big fan of the baggy looks — baggy jeans, cargo pants, even dress pants and suits, because I feel like you can mix that with so many different eras. They go well with everything, and they can be super classy and fun to wear.
LT: I love denim on denims, so I'm into that as an elevated Y2K moment.
ED: If you had to pick, what are three statement pieces that are essential parts of your character's closet?
GC: I feel like Jeremiah's would include some of my favorites from American Eagle, like all the polos. They fit really nice, and they're classy and crisp. And the color of the polos are bright and kind of youthful. The jeans are also always a classic. I love their light-wash jeans, and then third, I think fun, beachy button-ups.
CB I agree with Gavin that they sort of tie in with a lot of American Eagle stuff we've been wearing recently. An American Eagle short and a button-down over a T-shirt is a Conrad staple. Any day, any occasion.
LT: I think a classic, nice-fitting denim short. A big T-shirt that's cute and comfortable, and then a cute summer dress. Something for a nice night out.
ED: Were you able to have any input into the outfits that your characters wore this season?
LT: Yeah, a little bit. The Summer I Turned Pretty lives in a very specific world, and creator Jenny Han has a very specific vision for all the characters because she knows them so well. I feel grateful that we've gotten know them better too, and I got to have a say in this one outfit moment that ended up being my favorite. It was really cool because I'm happy with how it turned out.
Shop The New AE x The Summer I Turned Pretty Collection
The Summer I Turned Pretty Season 2 premieres on Prime Video on July 14.