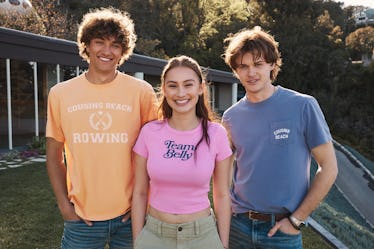 The Summer I Turned Pretty Cast's Go-To 'Fits For Every Occasion
Lola Tung, Chris Briney, and Gavin Casalegno reveal the styles they love for first dates, birthdays, and more.
Courtesy of American Eagle
We may receive a portion of sales if you purchase a product through a link in this article.
There's so much to love about The Summer I Turned Pretty. The romance (hello, love triangle), the drama (hello, love triangle *again*), the friendships — but can we just take a moment for the fashion? All the merch from Season 1 took over everyone's wardrobes in summer 2022, and the themed swag continued to eat up closets after American Eagle released its first TSITP collection before the end-of-year holidays. With the countdown to Season 2 very much underway, it's only fitting to take a cue from the show's stylish stars on what to wear for some of the biggest events in your life.
Not only do Lola Tung (Isabel "Belly" Conklin), Chris Briney (Conrad Fisher), and Gavin Casalegno (Jeremiah Fisher) know what it takes to build an iconic Eras Tour 'fit — for Tung, it consists of Swiftie faves like stacked friendship bracelets, little gems, and denim shorts — but the trio also has some thoughts on styles that would absolutely slay on the Fourth of July, birthdays, and first dates. Even better, you can find some amazing new items in American Eagle's second The Summer I Turned Pretty collab, which dropped earlier this week, to work into your ensembles for these very occasions. So if you've been looking for inspo (or just want to see some of your TSITP loves before S2 premieres on July 14), you've come to the right place.
This interview has been edited for length and clarity.
Fourth Of July Outfits
Though Belly's July 4 'fit in Season 1 was very much a ~moment~, Tung's not planning on wearing anything similar to any Fourth of July barbecues IRL. "That dress was a little restricting in the belly," she tells Elite Daily. "I'd probably want to wear something a little more comfortable." Her first thought: "cool" denim shorts and a tank top — "something easy and not too restricting or anything that's going to make me sweat too much."
Briney agrees with the light and easy aspect for the summer holiday, while also incorporating a bit of patriotic flair. "I have a blue and white striped T-shirt I love," he says.
Birthday Outfits
The light, summery vibes of Belly's birthday romper in Season 1 wouldn't pair too well with Tung's fall celebration. "My birthday's in October, so the seasons come into play a little bit," she says, before acknowledging her character's frequent use of florals, which aren't exactly autumnal.
Casalegno has no problem taking a cue from his character for his own festivities. "I think the bonfire 'fit from Season 1 that I had was one of my favorites," he says. "It was super comfy and was more my style. I feel like that's something he or I would wear for a birthday."
Birthdays and first dates get similar treatment from Briney. "As long as the atmosphere is right, you can't go wrong," he says. "Just throwing a nice little button down over a T-shirt, or a T-shirt, short-sleeve button down, mostly buttoned up" look is a win in his book.
First Date Outfits
The light blue crochet top and jean shorts combo Belly wore for her first date is pretty much the exact opposite of what Tung would wear on a romantic night out. Pointing to her all-black attire, which includes a crisscross top with thumb holes, she says, "This would be really cute to wear on a date. Something sleek, classic, cool, and fun."
Casalegno echoes Tung's sentiments, taking it one step further with the sleek factor and throwing it back to one of Season 1's most memorable moments. "I really love the deb ball scenes with all the suits. I think we looked great, especially Chris, Sean [Kaufman], and I — we all looked very dapper," he says. "That would be fun to go on a date — just go to an extremely nice place and dress up in a suit."
The Summer I Turned Pretty Season 2 premieres on Prime Video on July 14.