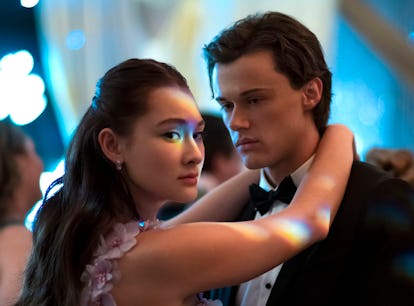 TSITP Fans Will Never Hear "Exile" The Same Way Ever Again
Season 2's final Taylor Swift song was its most heartbreaking of all.
Prime Video
Taylor Swift may not actually appear in The Summer I Turned Pretty, but she's definitely an important character on the show. In the teen romance's first season, several iconic Swift songs scored Belly's life-changing summer at Cousins Beach, specifically the moments she began exploring her feelings for longtime family friend Conrad. And Season 2 turned the Swiftie dial up even more. Amid other hit songs by Olivia Rodrigo and One Direction, The Summer I Turned Pretty's Season 2 soundtrack is packed with some of Swift's most romantic songs.
In The Summer I Turned Pretty, Belly is a diehard Swiftie through and through, so naturally her favorite singer's music plays a huge part in her messy love story. The first season wasted no time setting the scene with "Cruel Summer" as Belly and her family set off for their beach house in Cousins Beach. But most notably, Swift songs are used to build up the romance between Belly and Conrad. Unfortunately for Conrad's little brother Jeremiah, whom Belly also discovers some feelings for, their chemistry never seemed to light that same Swiftie spark. Season 1's swooniest Belly and Conrad moments were set to songs like "Lover," "False God," "The Way I Loved You," and "This Love."
Ahead of the Season 2 premiere, creator Jenny Han revealed that the new season would include even more of Swift's songs. On TikTok, Han confirmed nine Swift songs would be featured in Season 2 — four more than were in the first season. Naturally, Swifties immediately pitched their predictions for which songs might pop up as new episodes dropped each Friday.
And just like in Season 1, the new run of episodes also premiered one of Swift's new re-recorded tracks. Episode 6 debuted "Delicate (Taylor's Version)," prompting fan theories that Swift is planning on releasing Reputation (Taylor's Version) in the near future.
Here are the Swift songs that have played in The Summer I Turned Pretty's Season 2 soundtrack so far.
The Summer I Turned Pretty Season 2, Episode 1
The Summer I Turned Pretty Season 2, Episode 2
"Hey Stephen (Taylor's Version)" — Taylor Swift
"Invisible String" — Taylor Swift
The Summer I Turned Pretty Season 2, Episode 4
The Summer I Turned Pretty Season 2, Episode 6
"Delicate (Taylor's Version)" — Taylor Swift
"Snow on the Beach" — Taylor Swift
The Summer I Turned Pretty Season 2, Episode 8
"Bigger Than the Whole Sky" — Taylor Swift
"Exile" — Taylor Swift
This article was originally published on