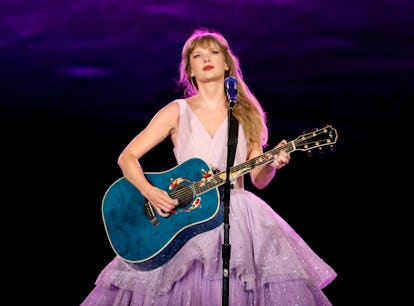 Swifties Are Mourning 1 Major Change Taylor Made To Her Version Of "Last Kiss"
The bridge will never be the same.
John Shearer/TAS23/Getty Images Entertainment/Getty Images
It may contain a bunch of familiar songs, but Speak Now (Taylor's Version) is not the same album that you were blasting in your bedroom back in 2010. Some of the biggest changes include updated lyrics on "Better Than Revenge" as well as six newly released vault songs. But one of the changes causing the biggest stir among fans is an incredibly tiny one that casual listeners might not have even picked up on. It's not even about the lyrics, but a small moment that happens in between the words of one of Swift's most heartbreaking ballads. Here's why memes about the removal of Swift's shaky breath in "Last Kiss" have been taking over social media ever since the release of Speak Now (Taylor's Version).
Though it was never a single, "Last Kiss" is an especially beloved song among Swifties, and was one fans were most eager to hear Swift re-record. Swift even highlighted how important the track has been in her career in the prologue she wrote for Speak Now (Taylor's Version). "In my mind, the saddest song I've ever written is 'Last Kiss,'" her note in the new album reads. And many longtime fans would agree with that statement. The song is a devastating recollection of a breakup Swift never saw coming — rumored to be about the end of her relationship with Joe Jonas in 2008.
One of the most heartbreaking moments in the song comes halfway through the bridge, when Swift sings, "And I hope the sun shines and it's a beautiful day / And something reminds you you wish you had stayed." In between those lines, Swift can be heard shakily inhaling, as if fighting back tears. It's a moment of raw emotion that has stuck with fans for over a decade, but sadly, that shaky breath is not recreated in the newly released version of "Last Kiss" on Speak Now (Taylor's Version). You can hear a comparison of the segment in the two versions below.
The loss was monumental for "Last Kiss" stans, who considered the breath to be an important hallmark of the song. Immediately after the new version was released, Swifties shared their devastation online.
To the casual listener, the new version of "Last Kiss" probably doesn't sound too different from the original. For superfans, the song has been changed forever now.