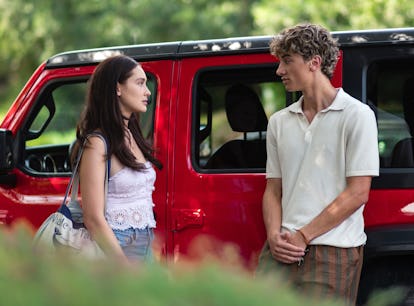 Get Ready For Major Jealousy In The Summer I Turned Pretty Season 2
Amazon Studios
What's a love triangle without a little jealousy? In The Summer I Turned Pretty Season 2, premiering July 14 on Prime Video, the stakes are higher than ever for Belly Conklin, Conrad Fisher, and Jeremiah Fisher — and according to the cast, that translates to plenty of jealous moments throughout the new season.
In Season 1, there were plenty of hints of tensions brewing between Belly, Conrad, and Jeremiah. But it never really felt like a fair fight; throughout the show, Belly made it clear that she had always been in love with Conrad first and foremost. However, as fans of the book series well know, Belly gives Jeremiah more of a chance in Book 2, It's Not Summer Without You — and based on the trailer, fans think that Team Jeremiah is in for a treat during Season 2, which could open the door for more jealous moments.
At one point in the trailer, Jeremiah confronted Belly about the previous summer, "Belly, you were my best friend. We hooked up, and then you hooked up with my brother, and then everyone expected me to act like I was fine. And I wasn't!" he told her. In another clip, he said, "There will always be something between you and Conrad," despite Belly's assurances that things are over between them.
Jeremiah's not the only one battling some jealous feelings. In another teaser clip, fans noticed Conrad getting a little envious when Belly got Jeremiah — and not him — a half-cherry, half-Coke soda from a gas station. "Where's mine?" he asked her. "You always say they're too sugary," Belly responded. "Yeah, well, I'm thirsty, so too bad," Conrad said, before taking a sip from Belly's drink. After Chris Briney (who plays Conrad), shared the scene on TikTok, his comments section quickly filled up with fans freaking out, leaving comments like "Jealous Conrad is so cute I can't" and "THE WAY I JUST SCREAMED."
The best part? According to Briney and Lola Tung (who plays Belly), there are a ton more of these twirling-your-hair-kicking-your-feet scenes to come in Season 2. At The Summer I Turned Pretty red carpet event on June 29, Briney exclusively tells Elite Daily about what's to come: "[There's] absolutely lots more jealous Conrad. I'm glad [fans are loving this side of him]. I like to explore different areas of character. He wasn't all that jealous last season, so it's sort of a new thing. He's a little sassy."
Tung also confirms that envy will "for sure" play a big role in the upcoming season. "I feel like everyone's got a jealous moment this season — definitely," she says.
For more angsty details, it looks like fans will have to read the books (the soda scene is directly from Jenny Han's second book, BTW) or wait for Season 2 to air.