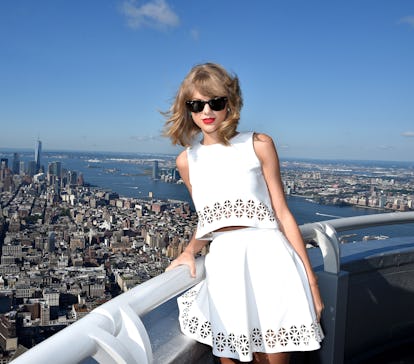 Where To Go Experience Taylor Swift's 1989 New York City Era
Got a long list of e̶x̶-̶l̶o̶v̶e̶r̶s̶ locations.
Out of all Taylor Swift's eras to return to, her 1989 one is pretty epic. Back in 2014, Swift was at what some believed to be her peak with a squad full of A-list besties and No. 1 singles. As excited as Swifties are to be getting 1989 (Taylor's Version) on Oct. 27, they also can't help but to be nostalgic for the first time they heard "Out of the Woods" or danced around to "Shake It Off." As you take a trip down memory lane, it's also the perfect time to revisit some of Taylor Swift's 1989 New York City hot spots.
When Swift was recording the OG 1989, she was living in Manhattan, hanging out with Karlie Kloss, and posting on IG much more than she does today. All the photos and videos she shared really gave fans a sense of 1989's aesthetic, and insight into Swift's favorite hangouts in the city. Unfortunately, Swift deleted her old Instagram posts during her reputation era, but fan accounts have tracked down those pics for anyone looking to re-create Swift's 1989 era today.
From stopping by Levain Bakery for some fresh baked cookies or snapping Polaroid pics on the NYC ferry, welcome yourself to New York with a Swift-inspired trip. Included in the map below are a few of Swift's current favorite locations to really welcome you to New York, but with a 1989 (Taylor's Version) twist.
1
Levain Bakery
167 West 74th Street
Visit the website
On Oct. 21, 2014, Swift shared a pic of a chocolate chip walnut and dark chocolate chip cookie with the caption, "The Levain Bakery cookies that turned my day around." Anyone who knows Swift also knows that she's an avid baker. During her OG 1989 era, she would even make cookies for fans to enjoy during her Secret Sessions, where she would play the album for a small group before its release. One of her fave recipes is for her chai eggnog cookies.
To get into the spirit of the 1989 era, you might want to stop by one of the Levain Bakery cafes in NYC. There are five Manhattan locations, but Swift went to the original store on 74th Street.