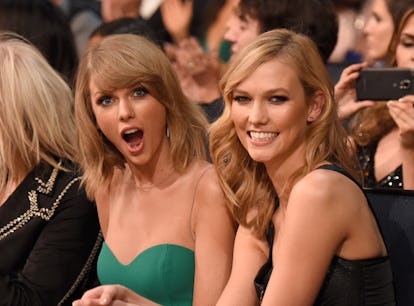 Karlie Kloss Went To Taylor Swift's Eras Tour & The Internet Lost It
Just breathe, just relax, it'll be OK.
Kevin Mazur/AMA2014/WireImage/Getty Images
Taylor Swift's final Los Angeles show broke the internet in more ways that one. On Aug. 9 (ahem, 8/9), Swift announced that 1989 (Taylor's Version) would be her next re-recording, coming out on October 27, but that wasn't the only Eras Tour moment that got fans talking. At the show, Karlie Kloss was spotted in the audience — and she wasn't in the VIP tent with other celebrities. Instead, Taylor's former BFF was seated in the 300s section, leading people to wonder if she waited in the Ticketmaster queue like everyone else.
A little background on the drama: Swift and Kloss were best friends — like, *best friends* — from 2012 to 2018. However, something seemed to go down in the fall of 2018, and Swift was notably absent from Kloss' October 2018 wedding to Jared Kushner. Though Kloss claimed they were still friends in a March 2019 appearance on Watch What Happens Live, Swift also skipped Kloss and Kushner's second wedding in September 2019. And that's not all. Following Swift's public dispute with Scooter Braun, whose purchase of her masters in June 2019 prompted her re-recordings, Kloss was spotted repeatedly hanging out with Braun.
Neither Swift nor Kloss has ever commented on the feud rumors, but Swift's lyrics often do all the talking. Many fans believe a pointed line in "It's Time To Go" is about Kloss: "When the words of a sister come back in whispers / That prove she was not in fact what she seemed / Not a twin from your dreams / She's a crook who was caught."
Swifties may never get the full backstory on these former BFFs, but Kloss' demotion from backstage tickets to nosebleeds (OK, the seats aren't that bad, but still) seems telling. Here's what fans on Twitter and TikTok think about Kloss' appearance at the Eras Tour.
Kloss showing up at the Eras Tour was definitely a surprise for fans — especially considering she wasn't in the VIP tent.
But once Swifties got past their initial shock, they were able to have a sense of humor about Kloss attending the show.
Some even commended Kloss for showing up at the tour at all, considering the rumors surrounding her and Swift.
It's hard not to be a little bit impressed by her boldness.
Others were left wondering if anyone told Swift about her ex-bestie's surprise appearance.
Did Tree Paine give Swift a heads up during her Eras costume changes?
Another fan pointed out the logistics of Kloss sitting in the bleachers with the rest of the fans — so she must have gotten tickets and gone through security the old-fashioned way, surrounded by Swifties.
At the very least, it's obvious that Kloss is still a Swift fan. She was filmed dancing during "Shake It Off" and recording a video of the performance on her phone.
Another surprise celeb appearance? Adam Sandler, but he managed to make it into the VIP tent.
Swift may have just announced the re-release of 1989, but after Kloss showing up at her party (à la "Betty"), it might be time for Reputation (Taylor's Version).