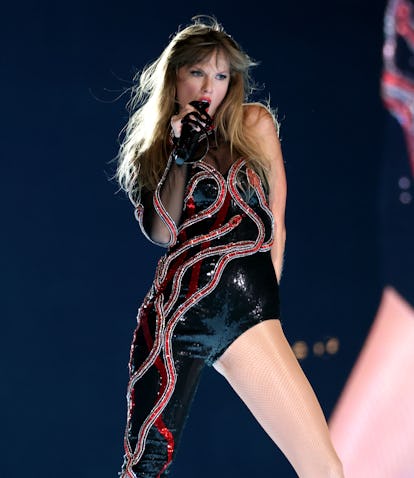 PSA: Don't Leave The Eras Tour Movie When The Credits Start Rolling
All you had to do was stay.
John Shearer/Getty Images Entertainment/Getty Images
You'll definitely be energized like never before after you watch Taylor Swift's Eras' Tour concert film, but don't hop in your getaway car right away. In the weeks leading up to the movie, Swifties have been theorizing how the queen of Easter eggs might slip something special into cinematic experience, and Swift didn't disappoint. Consider this your PSA to stick around through the end credits of Taylor Swift: The Eras Tour, because there are multiple post-credits surprises.
There's been a ton of chatter among Swifties about what Swift might include for her superfans in the post-credits. The predominant theory was that she might drop a Reputation (Taylor's Version) Easter egg, since she's already been teasing that not-yet-announced re-release for a while.
Before you read any further, consider this your spoiler alert. If you just want to know that you should stick around, but don't want to spoil the surprises, then you should stop reading here.
Sadly, Swift didn't gift her fans with any Reputation teases, but she did dedicate the whole credits and post-credits sequence to the Swifties. After Swift takes her final bow on stage and the credits begin, sweet videos of fans getting their lives at the Eras Tour begin to play.
Most importantly, the video montage is scored by "Long Live," which is probably the ultimate fan-favorite song from the Eras Tour setlist. It's especially meaningful because Swift's performance of "Long Live" was not included in the movie, so any upset fan who realizes The Eras Tour skipped over their favorite song will be surprised with it in the end.
Along with the fan videos, several iconic videos of Swift mess-ups along the tour are also shown. Swifties have jokingly referred to the Eras Tour as the errors tour from time to time when videos of stuff going wrong on stage would go viral. So, Swift got in on the fun and included a bunch of these clips in the final moments of her movie.
Finally, there's one last surprise once the credits end. The final frame is a thankful message from Swift to the fans, which is meaningfully written in the font of the friendship bracelets Swifties have traded at her concerts. It's Swift's way of giving her own friendship bracelet to all the Swifties.