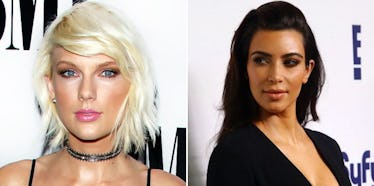 Taylor Swift's Fans Fire Back At Kim K A Year Later For Exposing Her On Snapchat
Mark/Davis /Astrid Stawiarz/Getty Images
Just when Taylor Swift was starting to come out of her shell, National Snake Day happened.
July 17 was officially declared National Snake Day by the internet. Do you remember when Kim Kardashian epically (and very publicly) exposed Taylor Swift during all the Kanye West drama? OF COURSE YOU DO.
If you live under a rock or took a trip to the moon this time last year, here's the short version: Kanye had a few lines in his song "Famous" about Swift. In those lyrics, he said some explicit things about Swift, including calling her "that b*tch." When Swift and her fans got mad, like real mad, sparks started flying. Swift even used her Grammy acceptance speech to shade West.
The drama drastically took a turn when Kardashian posted multiple videos on her Snapchat that showed Kanye on an apparent phone call with Swift. These videos seemed to exonerate West from any wrongdoings.
That's when the internet lost its damn mind and praised Kardashian for bringing the real situation to light. The phenomenon of #KimExposedTaylorParty was born, and no one has forgotten.
Don't mess with Kim K's man.
Now you see why we can never forget National Snake Day. This holiday has even been brought to the attention of Kardashian.
What's a little shade on National Snake Day?
However, this year, Swifties did not take National Snake Day lightly.
Taylor Swift's fans reclaimed the holiday a year later and posted tweets about their "legendary snake."
These people are self-proclaimed "proud snakes."
Hiss, hiss, indeed. Taylor or her Swifties do not stand down. However, people are still praising Kardashian for her legendary end to this dispute.
Not all heroes wear capes.
We will be forever indebted to Kardashian.
Some people are using "the holiday" to call out some of their own snakes.
Yesterday was truly a day to be remembered. Everyone has a story about where they were when Kim exposed Taylor. Truly a life-changing experience. Start saving up your shade for National Snake Day 2018.