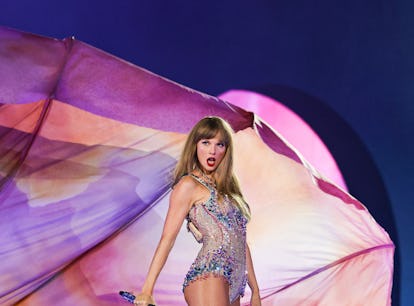 Taylor Swift Has A Song Called "SLUT!" & It's Deeper Than You Think
Did not expect this song to be so romantic?
Ethan Miller/TAS23/Getty Images Entertainment/Getty Images
When Taylor Swift revealed the titles of her 1989 (Taylor's Version) vault tracks, one word immediately stuck out to fans: "SLUT!" Written in all-caps, with an exclamation point, as if Swift was screaming the loaded expletive herself. The shocking song title had Swifties wondering just what this bold new song would sound like. Well, Swift's most bizarrely named track is finally here, and the lyrics aren't exactly what fans expected.
Turns out, "SLUT!" is actually a love song, not the fiery takedown of the double standards placed on women that many people were guessing. The lyrics tell the story of a dreamy romance, in which Swift lets go of her inhibitions and stops caring how the media perceives her love life. In the chorus, she muses that she doesn't care if people call her a "slut," because she's so happy in her relationship.
But if I'm all dressed up / They might as well be looking at us / If they call me a slut / You know it might be worth it for once / And if I'm gonna be drunk / Might as well be drunk in love
Like many 1989 songs, "SLUT!" is likely about Swift's two-year relationship with Harry Styles. "Everyone wants him / That was my crime," Swift sings in a verse, potentially referencing the mania surrounding Styles in the early 2010s.
The settings in the song are also notably very flashy and high-profile, matching the star-studded flair of Swift and Styles' time dating. Swift sings about "Flamingo pink / Sunrise Boulevard," "Hand prints in wet cement," and "The tangerine, neon light" at different points in the song, painting a picture of fluorescent Hollywood.
But the main focus of the song is how Swift has been mistreated by the general public for her love life. She sings about having a "break down" over "the sticks and stones they throw." However, her boyfriend is able to take away her worries: "In a world of boys / He's a gentleman."