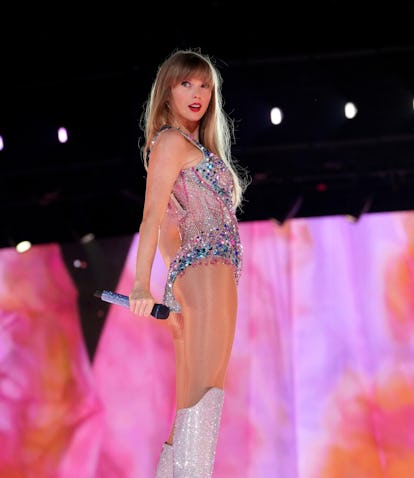 Swifties Think 1989's Vault Tracks Are Actually From Another Album
They do sound kinda sus...
Kevin Mazur/Getty Images Entertainment/Getty Images
Taylor Swift has finally opened her 1989 vault, but there's a feeling that Swifties just can't shake off. The five previously unreleased tracks don't exactly match the upbeat pop album's sound. They actually sound much more like one of Swift's more recent albums... and that's led to a conspiracy theory that Swift may not have written these songs when she claimed.
Like with her past re-releases, Swift included a handful of songs that didn't make the final cut of her album's original edition in 1989 (Taylor's Version). These newly released tracks include the surprisingly romantic "SLUT!," the lush and dreamy "Suburban Legends," and the ex-boyfriend-dragging "Is It Over Now?" Purportedly, Swift wrote these songs around 2013 and 2014, but some longtime fans are suspicious of that claim.
The vault tracks are all very lyrically dense and delve into experimental production effects, patterns that are much more in line with Swift's 2022 release Midnights than 1989, which is considered her most straightforwardly pop album. It didn't take long for a fan theory to form that these songs may be Midnights B-sides rather than actual 1989 cast-offs.
"These vault tracks sound more like midnights scraps," one fan wrote. "1989 vault tracks is actually midnights 9 AM version," another Swifties concluded.
Fans took aim at specific vault tracks, detailing how they believe certain songs were definitely meant for Midnights and not 1989.
"This is making me cry laughing bc how do you think you can just put a midnights reject on a re-recording and lie and say it was leftover from 2014 when your songwriting wasn't even moderately reminiscent of this nine years ago," one Swiftie wrote about the vault track "SLUT!"
"The way is it over now intro is labyrinth and now that we don't talk is mastermind and slut gives bejeweled," another fan wrote, comparing all the songs to similar-sounding Midnights cuts.
Fans may think one thing, but Swift has spoken about how these vault tracks really were at one time considered to be on 1989. In an interview with Tumblr Music, Swift recalled how she cut "SLUT!" from the original release because she felt it was too similar to "Blank Space."
"The song 'SLUT!' is a song we wrote for 1989, and in it I kind of sort of cheekily play on the discussions at that time in my life about my dating life," Swift said. "And that's not the only time on 1989 that I've done that; I did that on 'Blank Space.' And I think when I came down to having to pick songs on the album, I think I thought, 'OK, well I'm going to choose "Blank Space."'"