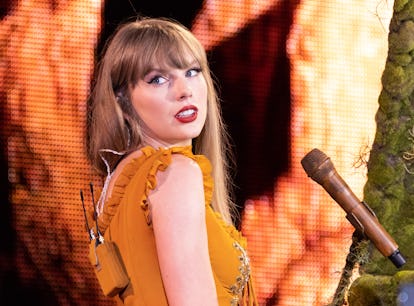 It Def Sounds Like Taylor Wrote "Suburban Legends" About This Ex-Boyfriend
Terence Rushin/TAS23/Getty Images Entertainment/Getty Images
Who knew Taylor Swift was hiding one of her grandest love stories in the 1989 vault all these years? Now, "Suburban Legends" is finally free, allowing fans to get lost in the euphoria of an epic summer romance that transcends time. And of course, there are already theories about who could have inspired the song. Honestly, the lyrics feel incredibly reminiscent of Swift's brief but memorable fling with Conor Kennedy.
A lot of aspects in "Suburban Legends" seem to be nods to Kennedy, the grandson of former Attorney General Robert F. Kennedy, whom Swift dated for a couple months in 2012. "We were born to be national treasures," Swift sings in the chorus, potentially alluding to the Kennedy political dynasty.
The imagery of "a class reunion" in a "1950s gymnasium" also harkens back to the era when the Kennedys were at the height of their power. However, Swift also sings about her and her partner's "mismatched star signs," which doesn't fit Kennedy so well, since he and Swift were actually very astrologically compatible.
The most convincing case that "Suburban Legends" is about Kennedy, though, is the song's summery, seaside setting. Swift sings that she lets things slide "like a hose on a slippery plastic summer" and repeats how "waves crash on the shore" in the outro. Notably, Swift's relationship with Kennedy lasted only for one summer, which they spent in the small seaside town of Hyannis Port, Massachusetts.
Probably the thing Swifties remember most about her relationship with Kennedy is that she bought a house right next to Kennedy's while they were dating. That bold move is seemingly referenced in the outro of "Suburban Legends." "I dash to the door / You don't knock anymore," Swift sings, dropping a hint that she lived very close to this person.
Swift would have written the previously unreleased song sometime around 2013, ahead of 1989's release in the fall of 2014. Although most of the album is thought to be inspired by her more recent and longer-lasting relationship with Harry Styles, "Suburban Legends" definitely feels more Kennedy-coded.