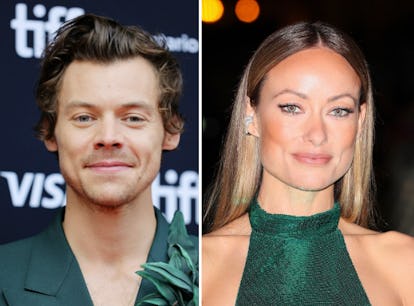 Harry Styles And Olivia Wilde's Relationship Timeline Is, Well, Wild
From the Don't Worry Darling saga to... salad dressing?
Amy Sussman/Getty Images + JB Lacroix/WireImage/Getty Images
Imagine, for a moment, being Olivia Wilde in late 2020. You are successful and brilliant and can rock a deep V like it's nobody's business. You're in charge on movie sets, including for your upcoming project Don't Worry Darling, set to star Florence Pugh and Harry Styles. And you're reportedly between two romances with the world's most charming and delicious men: goofy, sensitive Hot Dad Of The Century, Jason Sudeikis, and adorable, inimitable best-dressed showman, Styles. Life is your candy store, and you're just a happy little kid scooping gummy bears by the fistful.
Well, in mid- to late 2022, "you know it's not the same as it was." While promoting Don't Worry Darling at Cinemacon on April 27, Wilde got surprised with child custody papers on stage. There have been thousands of TikToks about her rumored nasty feud and reported screaming matches with Pugh. The director's former nanny is running to the Daily Mail with claims that Wilde left her ex-husband for Styles — after Wilde flatly denied that rumor. She's still successful and brilliant, of course, but life is a lot more like a giant obstacle course than a candy store these days. The silver lining? Styles is there to support Wilde through it all, and he's probably writing more love songs about her, too.
So, how did we get here? When (and why) did Wilde split from Sudeikis and wind up with Styles? For answers to these questions and more, step into the wild world of Harry Styles and Olivia Wilde's relationship timeline, complete with covert gifts, wedding appearances, gallons of boiling hot Don't Worry Darling tea... and of course, special salad dressing.
September 2020: Styles Was Cast In Don't Worry Darling
On Sept. 11, 2020, Deadline reported that Styles had been cast to replace Shia LaBeouf in Wilde's new film, Don't Worry Darling. Two months later, Wilde was interviewed as part of Styles' cover profile for Vogue. She told them at the time that she and the film's costumer, Arianne Phillips, did "a little victory dance" when they'd learned they'd officially signed Styles to the film. "We knew that he has a real appreciation for fashion and style," she explained. "And this movie is incredibly stylistic. It's very heightened and opulent, and I'm really grateful that he is so enthusiastic about that element of the process — some actors just don't care."
2020: Wilde & Sudeikis Ended Their Seven-Year Engagement
Fans learned of Wilde and Sudeikis' split in November 2020, after nearly a decade as a couple and almost as long as fiancés. They have two kids together, 6-year-old Otis Alexander and 4-year-old Daisy Josephine, whom they co-parent and for whom they share custody. At the time of the announcement, People reported that the breakup happened in early 2020 and was "amicable," though there were varying reports in the ensuing months about Sudeikis' state of mind. Some claimed he was "heartbroken" and that he was reportedly holding out for "hope that maybe there's a way for them to repair things." However, according to Entertainment Tonight, the duo actually parted ways in November, shortly before the public found out.
January 2021: Wilde & Styles Held Hands At A Wedding
In January 2021, Wilde and Styles were spotted holding hands at Styles' agent's wedding at the San Ysidro Ranch in Montecito, California. Leaked images from the event sent shockwaves through their fanbases — in part because Wilde and Sudeikis had only recently publicized their split. When the cozy-looking photos surfaced, some fans debated whether the situation smelled fishy, even going so far as to wonder if Styles was the reason for the Sudeikis-Wilde split — though Wilde has since said this was not the case.
Amid whisperings that the situation was all just a publicity stunt for their upcoming film, Entertainment Tonight reported that the pair had gotten close while filming for Don't Worry Darling and had built an "organic" relationship together. Twitter promptly mourned the loss of single Harry Styles.
February - March 2021: They Were "Happy" Together
In February 2021, a source told People that Wilde was "very happy with Harry" and that the two seemed "very serious." Also in February, Wilde posted a doting message to Styles, commending him for his work on their film and his willingness to play a supporting role under the female protagonist, which, she said, continues to be rare in Hollywood. "Not only did he relish the opportunity to allow for the brilliant @florencepugh to hold center stage as our 'Alice', but he infused every scene with a nuanced sense of humanity. He didn't have to join our circus, but he jumped on board with humility and grace, and blew us away every day with his talent, warmth, and ability to drive backwards. 👊 #dontworrydarling."
A few weeks later, when Styles won the Grammy for Best Pop Solo Performance for his hit single, "Watermelon Sugar" (his first Grammy win), Wilde posted what fans thought were cryptic images that alluded to her beau. They included a snap of Mick Jagger in an outfit Styles would 100% be wearing today, and a snap of a younger Paul McCartney biting into a watermelon. Suspicious…
April 2021: They Spent A Lot Of Time Together In The U.K.
In April 2021, a source told Entertainment Tonight that the couple was enjoying plenty of "one-on-one time" in the U.K., living the slow life after months of filming in L.A. According to the source, "Their idea of a good time is going for a long walk and ducking into a neighborhood pub."
July 2021: They Made Out On A Boat In Italy
In order to receive your official Hot Celebrity Couple badges in the mail, you must first make out on a boat in Italy. It's the rule. Wilde and Styles passed that test in July 2021, when they were spotted kissing and frolicking and looking generally lovestruck together in southern Tuscany.
September 2021: Wilde Supported Harry Styles At Love On Tour
Wilde was spotted supporting Styles at his show in Las Vegas in September 2021, the first stop on his tour. According to eyewitnesses, Wilde was singing along to almost every song. The source added, "She was so happy and dancing all night!"
November 2021: Wilde Appeared To Wear Styles' Jewelry
In November 2021, Wilde was spotted with a gold cross necklace that fans recognized as Styles' — or at least something very similar. Fans were flabbergasted. TikToks were made comparing the two pieces of jewelry. And fan theories about the reported couple continued to spiral.
December 2021: Wilde Alluded To Being "Really Happy" With Styles
On Dec. 5, 2021, Vogue published the cover story for their January issue featuring Wilde. The interview was mostly about her storied career, her perspective on Hollywood, and her childhood, though it also touched on her current relationships and personal life. When asked about the criticism she's received for potentially dating someone 10 years younger than she is, Wilde responded tactfully — never confirming her relationship with Styles but alluding to it.
"It's obviously really tempting to correct a false narrative," she told Vogue. "But I think what you realize is that when you're really happy, it doesn't matter what strangers think about you. All that matters to you is what's real, and what you love, and who you love."
Also in the interview, she gushed about her joy. "In the past 10 years, as a society, we have placed so much more value on the opinion of strangers rather than the people closest to us," she said. "I'm happier than I've ever been. And I'm healthier than I've ever been, and it's just wonderful to feel that."
May 2022: Their Relationship Was Reportedly "More Serious Than Ever"
On May 30, a People source described Styles and Wilde's relationship as "more serious than ever." The insider added that even with both of their packed schedules, they were "finding ways to make things work."
"What might have seemed like a fling initially, is now a committed relationship," the source told People. My personal favorite part of the quote? They emphasized, "Harry is very smitten. Olivia has very much brought out his romantic side. He also has tremendous respect for her when it comes to work. He would love to work with her again. They both support each other's careers." 🥰
August 2022: Styles & Wilde Opened Up About Their Romance
Styles spoke candidly about his relationship with Wilde during an Aug. 22 Rolling Stone cover interview. He touched on the difficulties of dating in the public eye. "It's obviously a difficult feeling to feel like being close to me means you're at the ransom of a corner of Twitter," the pop star shared. "I just wanted to sing. I didn't want to get into it if I was going to hurt people like that."
Wilde echoed her BF's sentiment about the tricky nature of love in the spotlight. "I've never seen a relationship benefit from being dragged into the public arena," the director told Variety during an Aug. 24 interview. She explained, "We both go out of our way to protect our relationship; I think it's out of experience, but also just out of deep love."
During the same interview, Wilde called Styles "the perfect Jack" (his character in Don't Worry Darling) and raved about his musical talent. "In prep [for DWD], Harry called me and said, 'What's the trigger song? Like, what's the melody?,'" Wild recalled. "I said, 'I don't know. I'm going to different writers to write it. Do you have anything in mind?' And he said, 'I'll think about it.' Five minutes later, he sent me a demo from his piano, and it was what ended up in the film. He called me and said, 'What about this?' And I was like, 'Yeah, that's it. That's it. And that's really insane that you did that in five minutes."
September 2022: They Appeared Together At The Venice Film Festival For Don't Worry Darling
Styles and Wilde stunned in Gucci for the Venice Film Festival premiere of Don't Worry Darling on Sept. 5. Although they may have given each other some sneaky couple eyes throughout (as pictured), the lovebirds kept things pretty professional and did not stand next to each other for any photos on the red carpet.
September 2022: Wilde Called Rumors She Left Sudeikis For Styles "Horsesh*t"
Since reports of Wilde and Sudeikis' split surfaced in November 2020, and Wilde and Styles were holding hands by January 2021, many fans speculated that Wilde may have left Sudeikis for Styles. The Don't Worry Darling director shut down those pesky rumors once and for all (or so she thought at the time) during a Sept. 8 Vanity Fair interview.
"The complete horsesh*t idea that I left Jason for Harry is completely inaccurate," she said, firmly. "Our relationship was over long before I met Harry. Like any relationship that ends, it doesn't end overnight. We were raising two kids during lockdown, so we co-parented through that time." Wilde added, "Once it became clear that cohabitating was no longer beneficial for the children, it became the responsible thing to not, because we could be better parents as friends who live in different houses."
October 2022: Wilde's Nanny Told All (AKA The Infamous Salad Dressing Saga)
This tell-all is the wildest moment of Styles' and Wilde's entire timeline, IMO. In an Oct. 17 Daily Mail interview, Wilde and Sudeikis' former nanny had a lot to say about the whole Sudeikis-Styles-Wilde timeline. According to her, Sudeikis and Wilde had a messy split because Wilde left him for Styles — so, um, backing up that same rumor that Wilde called "horsesh*t." The nanny told the Daily Mail that Sudeikis claimed "[Wilde] put the first move on [Styles]" by "kissing him" at a cast dinner in Palm Springs.
However, according to the nanny, it was really Wilde's salad dressing that ended her relationship with Sudeikis. (IK, IK, but stay with me.) "Jason told me, '[Olivia] made this salad and she made her special dressing and she's leaving with her salad to have dinner with [Harry]," the former nanny claimed.
One thing's for sure: This relationship truly never gets boring, and I'll always be along for the ride.
This article was originally published on