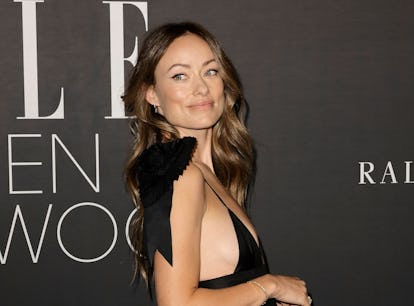 What's In Olivia Wilde's Special Salad Dressing Recipe? It's Telling
A viral recipe to worry about.
Kevin Winter/Getty Images Entertainment/Getty Images
I can't stop worrying, darling. Every few weeks, the internet turns its attention to newly surfaced details in the Olivia Wilde/Harry Styles/Jason Sudeikis love triangle, and the latest drama revolves around some salad dressing. According to the couple's former nanny, Wilde reportedly packed Styles a salad tossed in her "special dressing" back in 2020 — which was reportedly upsetting enough for Sudeikis to stop her from delivering it by laying in front of her car. The internet buzzed with theories about what could possibly be in this recipe, but Wilde finally put the speculation to rest per usual. If you're also wondering what's in Olivia Wilde's special salad dressing recipe, here's the formula that's causing significant buzz online.
ICYMI, new interview with the Daily Mail, Sudeikis and Wilde's former nanny recounted a time where the very teary Ted Lasso actor reportedly laid down in the driveway to prevent Wilde from leaving with the salad dressing. According to the nanny, he reportedly told her, "She has a special salad dressing she makes for us and she's taken it to have it with him now."
While the former spouses have both vehemently denied the drama in a joint statement, it still seems oddly specific, and it makes you wonder just how good a salad dressing recipe could be. Although the Don't Worry, Darling director has stayed mum about a potential recipe, the internet did some sleuthing, and theories about what was in Wilde's "special" salad dressing made their rounds around the internet.
After a whole day of internet chaos over her fabled dressing, Wilde shut the chatter up with a post to her Instagram story. She shared a photo of a page from the 1983 book Heartburn by Nora Ephron, which shows a passage where the narrator describes making a salad vinaigrette, including a full recipe for the "heartburn" vinaigrette.
The page from Heartburn reveals that Rachel once taught Mark how to make the vinaigrette, so maybe Sudeikis was just upset that she was sharing their secret recipe. In any case, the "special dressing" is very similar to a traditional French vinaigrette, which calls for three parts oil to one part vinegar, blended and lightly seasoned, with an occasional addition of Dijon mustard for creamy texture and rich flavor. Rachel's recipe calls for just a few ingredients, but if you want to see for yourself why this classic dressing could possible be delicious enough to lay in a driveway for, keep scrolling for the full recipe straight from Wilde's Instagram story.
What's In Olivia Wilde's "Special" Salad Dressing Recipe?"
2 tablespoons red wine vinegar
2 tablespoons Grey Poupon Dijon mustard
6 tablespoons olive oil
Salt and pepper
Salad greens of your choice
In a small bowl, mix the red wine vinegar and mustard until combined.
Whisking with a fork, slowly pour in the olive oil until the vinaigrette emulsified to a thick and creamy texture.
As you whisk, slowly pour in olive oil until emulsified. Season with salt and pepper.
In a large bowl, toss over greens such as arugula, watercress, or endive. Serve and enjoy.
This article was originally published on