My Time, My Wine, My Spirit...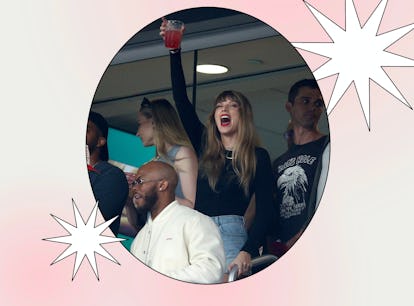 What Does Taylor Drink At Chiefs Games? Here's What She's Sippin' On
It's an easter egg to her 1989 squad.
Elsa/Getty Images Sport/Getty Images/Elite Daily
When she's not busy with red carpet premieres and promoting her next re-recorded album, Taylor Swift seems to be spending all of her free time at Kansas City Chiefs games, cheering on rumored boyfriend, Travis Kelce. The football fanatic era has Swifties tuning into the NFL, buying team jerseys, and even wondering what Swift is drinking while chilling in VIP suites. Her snack of choice has already been revealed as "a piece of chicken with ketchup and seemingly ranch," but what does Swift drink at Chiefs games? Well, she definitely likes to mix it up.
Since her first appearance on Sept. 24, Swift has been spotted at two more of Kelce's games, and each time, her cocktail in hand is slightly different. Anyone who's ever listened to songs like "Cruel Summer" or "Maroon" knows that Swift loves a good drink, but she's typically been a wine girly. Case in point — to celebrate the end of the first leg of her Eras Tour, Swift was spotted drinking a glass of white wine. Also, in her 2020 Miss Americana documentary, Swift was seen drinking white wine with ice during a dinner date with her best friend, Abigail Anderson.
Despite all of that, the red drink she was seen holding at both the Chicago Bears and New York Jets games looks more like a vodka cranberry. With some investigating, it appears that Swift's drinks aren't just her switching things up for the game — she's actually showing off how supportive she is. For both the Oct. 1 game and the most recent one on Oct. 12, Swift was drinking beverages linked to her BFF, Blake Lively, and her rumored BF.
Taylor Swift's Drink At The Chiefs Versus Jets Game Had Betty Buzz In It
For games at Arrowhead Stadium in Kansas City, Swift has kept it rather low-key by sitting next to Kelce's mom, Donna Kelce. However, at the Jets game in New Jersey, she brought her entire squad with her. That included Sophie Turner, Sabrina Carpenter, Hugh Jackman, Ryan Reynolds, and Lively. The latter was supplying the drinks with her Betty Buzz and Betty Booze products for everyone in the suite.
According for the brand, Reynolds opted for a can of Betty Booze Sparkling Tequila with Lime Shiso, while Brittany Mahomes mixed some Betty Buzz Sparkling Lemon Lime into her cocktail. Swift's drink looked like a vodka cranberry, but whatever she was sipping on also included some Betty Buzz Meyer Lemon Club Soda. The other fan theory online was that Swift was drinking a trendy Dirty Shirley. If that's the case, Betty Buzz lemon soda is a perfect mix-in to go along with the vodka and grenadine.
To make a traditional Dirty Shirley with Betty Buzz, mix the following ingredients:
2 oz. vodka
1 oz. grenadine
8 oz. Betty Buzz Meyer Lemon Club Soda
Taylor's Drink At The Chiefs Versus Broncos Game Was A Lime Margarita
At the beginning of 2023, Kelce became an ambassador for Casa Azul Tequila Soda, so it shouldn't be a surprise that Swift was seen drinking one of the canned cocktails at the game on Thursday. Out of four possible flavors, Swift chose the Lime Margarita. It wasn't hard to spot since she had her drink on full display during the game. Swift is many things — a Grammy Award-winning songwriter, record-breaking movie maker — and now, it looks like the No. 1 fan of Travis Kelce.