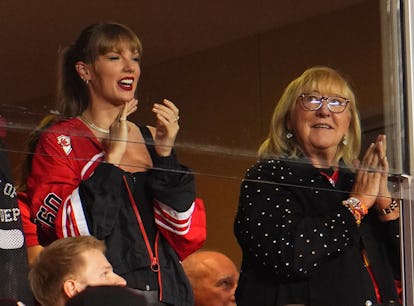 Behold: An Expert's Analysis Of Taylor & Donna's Body Language
Plus, why that Today interview was so awkward.
"Meet the parents" takes on a new level of intimidating when you're being broadcasted to millions of football fans. But Taylor Swift has been faring just fine under the pressure. Taylor has attended not one, but two Chiefs games alongside Travis Kelce's mom, Donna Kelce — and according to a body language expert, the singer has made quite the impression.
On Oct. 12, Taylor and Donna sat together to watch Travis play against the Denver Broncos, looking like the best of friends. But only six days earlier, Donna discussed Taylor on the Today show — and when she described meeting her as "OK," fans thought Donna was a little unenthusiastic about hanging with the pop star.
Watching the Oct. 6 interview, expert body language analyst Patti Wood doesn't think there was any shade directed toward Taylor. "She had asked [Hoda Kotb and Jenna Bush Hager] not to talk to her about that," Wood points out to Elite Daily. "Her irritation in the moment is due to the fact that she's uncomfortable because they broke a boundary."
TL;DR, there wasn't any reason for Taylor and Donna to have tension at game No. 2, so their camaraderie on Oct. 12 makes total sense. Wood, author of Snap: Making the Most of First Impressions, Body Language, and Charisma, explains that their body language at the Chiefs vs. Broncos game indicated "true intimacy and happiness together." Here's how she can tell.
Taylor Whispered In Donna's Ear
During the game, Taylor was photographed whispering to Donna — a move that Wood says indicates a certain level of closeness. "Taylor brings her face into the intimate zone of space and uses her hands to cover what she's saying," Wood says. (BTW, intimate zone of space is the technical term for close physical contact, about 16 inches.)
The fact that Taylor raised her hand to hide her mouth is also noteworthy. "That's an exclusionary body language cue," Wood explains. "It tells me, 'What I'm saying is just between the two of us. It's not for public view.'"
This combination of physical closeness and exclusionary signaling was an "indication of having an intimate and easygoing relationship that isn't just for public view," per Wood.
It's a dynamic that Donna seemed to enjoy. "Her laugh is sincere. It's not for the audience, crowd, or photographers," Wood says. There are a few ways she can tell. "Donna has an open mouth smile, showing the back of her mouth, her teeth are showing, and her cheeks are extremely lifted up. That kind of 'up' body language tells me this photo is capturing a true laugh and true joy."
Taylor Leaned In To Listen
As the game went on, Taylor and Donna were photographed talking to one another. At one point, Taylor leaned in to listen, so much so that their heads touched. "Both of them feel very comfortable," Wood says. "Taylor is making the move to get in that close, and Donna is accepting of that. She still has that lifted facial expression, indicating genuine joy."
In the photo, Taylor and Donna are displaying similar facial expressions, especially if you look at their mouth and eyes. Apparently, the fact that they shared the "same expression" was another good sign. "They're in the moment together," Wood says.
But Wood notes one surprising detail in this pic: how Taylor is holding her hands. "That odd way Taylor's holding her hands tells me that she wants to put her hand on Donna's shoulder, but she's holding herself back from being too touchy-feely in front of the cameras."
They Mirrored Each Other
Throughout the game, Taylor and Donna seemed to be on the same page. In this photo, for example, Wood points out that they are "matching and mirroring" each other. "The fact that they're both touching their noses is probably because something funny or crude happened."
It's not just the one hand on the nose, either. "Both have their other hand up, too. And even their eye placement is very similar," Wood says.
That level of matching and mirroring is another good sign; not only were Taylor and Donna in the moment together, but they were sharing almost identical reactions to the experience, hinting at "like-mindedness."
Source:
Patti Wood, expert body language analyst and author of Snap: Making the Most of First Impressions, Body Language, and Charisma