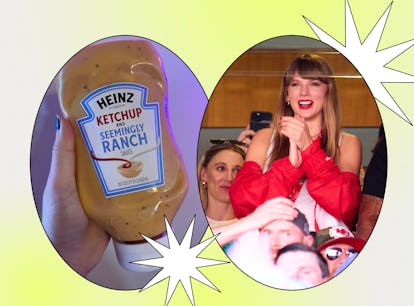 We *Finally* Know What Taylor Swift's Viral Chiefs Meal Tastes Like
Lay the table with the fancy sh*t "seemingly ranch" sauce.
Rachel Chapman/Cooper Neill/Getty Images Sport/Getty Images/Elite Daily
Taylor Swift once sang, "In your life, you'll do things greater than dating the boy on the football team," but right now, her rumored fling with Kansas City Chiefs' Travis Kelce seems to be all anyone can talk about. From what Swift is wearing at the games to fans dissecting the mysterious red drink that she's been sipping on, all eyes are on the 1989 (Taylor's Version) singer. After Swifties made her game day snack — "a piece of chicken with ketchup and seemingly ranch" — a meme online, I jumped at the chance to see exactly what her Chiefs meal tasted like, thanks to a special limited-time bottle from Heinz.
At the Sept. 24 Chiefs game against the Chicago Bears, Swift stunned fans when she appeared in a VIP suite to cheer on Kelce for the first time. Since Swifties are used to searching for clues and easter eggs, they were quick to spot what was on her plate. Unfortunately, the chicken finger and dipping sauces weren't a nod to reputation, but the way one fan account, @tswifterastour, reported on the game day meal — referring to the sauce as "seemingly ranch" — was too funny not to call out. Companies like Arby's and McDonald's jumped on the seemingly ranch train with tweets and deals, but it was Heinz who really took the trend to the next level by introducing an exclusive Ketchup and Seemingly Ranch bottle for Swifties.
I was able to get my hands on a bottle of Heinz's Ketchup and Seemingly Ranch, and the first thing I did was order up some chicken fingers so I could finally know what Taylor Swift's viral Chiefs game meal really tasted like.
My Review Of Taylor Swift's Seemingly Ranch From Heinz
I've had chicken fingers with ketchup and I've had them with ranch, but I don't think I've ever combined the two for my dipping sauce. To be fair, I know it's a popular choice and Heinz does have their Kranch sauce — which is basically the Ketchup and Seemingly Ranch with a new label — but I'm more of a honey mustard or buffalo sauce person. So, this was truly my first time trying Ketchup and Seemingly Ranch together. And I've got to hand it to Swift — Ketchup and Seemingly Ranch is good.
There are a lot of people who believe that everything is better with ranch, and this is definitely the case with ketchup. If there are no other dipping sauce options, ketchup is fine with your chicken fingers, but I believe it's a pretty basic choice. It's giving very much off the kids menu. Including ranch brings an added depth to the flavor — aka it makes your sauce a little bejeweled, if you will. Thinking that the person who wrote "Champagne Problems" eats chicken fingers with just ketchup doesn't sit right with me, but knowing that she creates her own secret sauce by adding in ranch makes total sense.
While enjoying Swift's Chiefs game meal, I felt like the ranch was the main character quarterback or MVP of the sauce, with the ketchup there supporting it as the tight end. Together, they worked well to create a sweet and creamy accoutrement to my savory piece of chicken. If you're a Swiftie who's never tried Kranch sauce before, I highly recommend getting yourself some ketchup and ranch to mix together. Unfortunately, only 100 exclusive Ketchup and Seemingly Ranch bottles were made for Swifties to win in a giveaway, but you can still get your hands on a bottle of regular Kranch ($4, Amazon) right now.
Now, the only mystery remaining is the order in which Swift dipped her chicken. Was it ketchup first, then the ranch? Or, was it ranch, then ketchup? The world will seemingly never know.