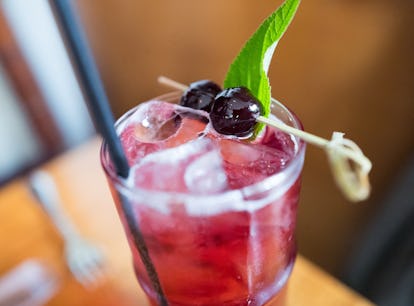 40 Dirty Shirley Instagram Captions To Go With The Drink Of The Summer
A good caption is just the cherry on top.
Gado Images/Photodisc/Getty Images
Who could have guessed that the drink of summer 2022 would be the Dirty Shirley? The cocktail, which is a boozy version of a Shirley Temple, is typically a mix of vodka, grenadine, and Sprite or ginger ale with a maraschino cherry on top. It's light, refreshing, and full of Y2K nostalgia. If you haven't already ordered or mixed up your first Dirty Shirley of the season, the time is now. And whether it's your first sip or just your next one, you'll need some Dirty Shirley Instagram captions on hand to be able to post with your snaps right away.
Since it's a Dirty Shirley summer, you would be remiss not to post your viral drink to the 'Gram. The #DirtyShirley tag also has nearly 12 million views on TikTok, so you can just imagine how many likes your sippin' selfie with a Dirty Shirley will get. Of course, in order to post ASAP, you need some good Dirty Shirley captions to go along with your Instagram pics. Luckily, we've got your back with these 40 Dirty Shirley Instagram captions and quotes. Use a funny Dirty Shirley pun for a silly pic of you and your besties enjoying drinks at a happy hour rooftop bar or just a good Dirty Shirley quote for a well-lit drink pic after mixing up your own cocktails at home. Wherever you're sipping, these Dirty Shirley Instagram captions are sure to help you draft up a cherry good post.
"This drink is the cherry on top of a perfect day."
"This Dirty Shirley is cherrific."
"I cherry-ish every moment with you."
"This Dirty Shirley is cherry sweet."
"There's nothing like real love. Nothing." — Shirley Temple
"Many people consider me an old friend." — Shirley Temple
"I picked you."
"I'm red-y for summer."
"You are the cherry best."
"I like my Shirley dirty."
"Drink happy thoughts."
"Sip, sip hooray."
"Shirley, you can't be serious." — Airplane!
"You can't sip with us."
"Vodka is kind of a hobby." — Betty White
"I'm drinking this slowly, but Shirley."
"Let's get dirrty." — Christina Aguilera, "Dirrty"
"I'm in the spirit for a Dirty Shirley."
"Hakuna Mavodka. It means no worries."
"Alcohol you later. I'm enjoying a Dirty Shirley right now."
"Merci mon cherry."
"I love you cherry much."
"Here's a pic to cherry you up."
"I think a Dirty Shirley will cherry you up."
"Here's a toast to my real friends." — Taylor Swift, "This Is Why We Can't Have Nice Things"
"Take a pitcher, it'll last longer."
"Only count the happy hours."
"Live every hour like it's happy hour."
"Oh, my, word..." — Shirley Temple
"Everything tastes better with a little vodka added in it."
"Always find time for the things and people who make you happy."
"Let me help you cherry these drinks."
"You can live vi-cherry-ously through me."
"Con-cherry to popular belief Shirley Temples can be very good."
"I'm a very cherry-ful person with a Dirty Shirley."
"Shirley, you haven't lived until you've had a Dirty Shirley."
"Why limit happy to an hour?"
"Just enjoying the drink of the summer."
"I was drinking Shirley Temples way back in middle school at Chili's or whatever ... and so I feel like I'm ahead of the trend." — Bowen Yang
"Drunk on something stronger than the drinks in the bar." — Taylor Swift, "Cornelia Street"