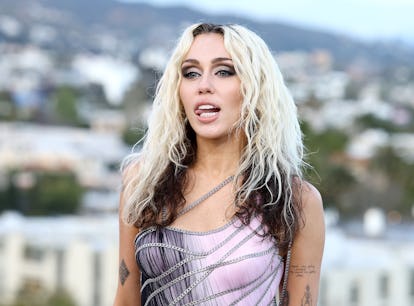 Miley Cyrus' "River" Lyrics Are Just As Nasty As She Promised
Arturo Holmes/Getty Images Entertainment/Getty Images
After months of teasing, Miley Cyrus' Endless Summer Vacation has officially arrived. Her eighth studio album, which released on Mar. 10, is a savory glimpse of the "new Miley" — a woman who is choosing to wallow in self-love and new budding romances rather than heartbreak, even if she is a bit scorned. Lyrically, this record is the ~spiciest~ trip the singer has been on, and her latest single "River" is proof of it. On this track, Miley's obsessing over her summer fling in the thirstiest way, because there's no room for drought in her love life this season.
"River" was produced by Kid Harpoon and Tyler Johnson, the two masterminds behind her lead single "Flowers." While that bop is believed to reflect on her past domestic bliss with ex-husband Liam Hemsworth, her new watery offering is what Miley describes as a "dance floor banger" that's "f*cking nasty." Well, my ears are certainly perked.
On Mar. 8, two days before "River" and the album dropped, the singer teased what inspired the filthy tune. "It was a time in my life where I was going through a lot emotionally and personally," Cyrus said, adding that "River" and other songs in her discography speak to her evolution as an artist. "[My songs] can start as something that was trouble, like it just feels like it's an April shower. It just never stops raining, and then it started raining down, like, love."
She continued in the video, where she tried revealing the meaning behind "River" before she was censored. Being that she described the mystery beau on "River" has shown her a love that rains down like an "April shower," fans might be able to fill in the censors with their imagination.
As an extra touch, Miley revealed on Twitter that Endless Summer Vacation's tracklist was divided into daytime and nighttime. For context, "A.M." is energetic while "P.M." is slinky and a bit grimy. Of course, "River" kicks off the raunchy "P.M." side of the album, which drips with intoxicating tales of sex. With that said, let's dive into the lyrics behind "River."
Pulsing with acidic synths, Miley channels her inner Beyoncé by purchasing a new freakum dress to impress her lover. She's craving for his undivided attention, so much so that she'll pin her hair back in his favorite style to keep him on his toes. As those retro synths — which also bathe in underlying chords reminiscent of the '80s — swell to the pre-chorus, Miley gushes that her partner knows how to keep her hydrated in the naughtiest way.
"Heart beats so loud that it's drownin' me out / Livin' in an April shower / You're pourin' down, baby, drown me out," she coos, her techno-styled harmonies adding a sultry layer to her already rousing lyrics.
That declaration paves way to the hooky chorus, where she prides her partner for flowing like an endless river. He seems to "go on forever," which could speak to his libido. She sings,
"Oh oh ooh, you're just like a river / Oh oh ooh, you're just like a river / Oh oh ooh, you go on forever / You're just like a river."
The singer ups the ante in the second verse, trading her raspy croons for a gravelly sing-talk cadence. There, she confesses she felt like a "desert" wasting away in a drought before she met him. Now, she's in absolute thirst mode.
"Blowing bubbles in the bath, I can't stop from thinking lately / You could be the one, have the honor of my babies / Hope they have your eyes and that crooked smile / Was a desеrt 'fore I met you, I was in a drought," she croons.
To accompany this raunchy single, Miley also dropped a music video for "River." Clad in a black-and-white hue, the Endless Summer Vacation singer can be seen dancing on a lit runway in her new aforementioned dress from the song's opening verse: A backless LBD. The visual soon cuts to scenes of toned, shirtless men dancing around Miley, their huddled and ravenous moves calling on Britney Spears' "I'm A Slave 4 U." By the end of the video, Miley continuously wails about her partner "flowing like a river" until the entire set is soaking wet. Yeah, the thirst is absolutely real with this one.
Check out the music video for "River" and full lyrics via Genius.