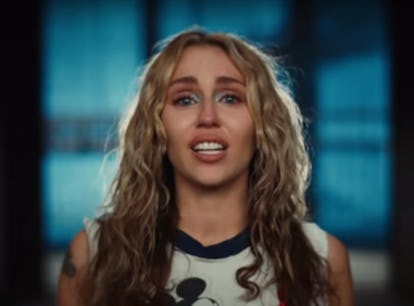 Miley Included A Subtle Disney Shoutout In Her "Used To Be Young" Video
Miley Cyrus' new single is all about looking back at her past, and that includes her career beginnings as a Disney teen queen. Fittingly, Cyrus paid tribute to her Disney days in the "Used To Be Young" music video with a small detail in her outfit. Though the video is intentionally simple, Cyrus made sure to throw in a Disney Easter egg to reflect the song's message.
After she'd been teasing the release of "Used To Be Young" for a few months, Cyrus finally dropped the retrospective new track on Friday, Aug. 25. The power ballad is all about Cyrus' personal evolution from her wild partygirl days to her more grounded and laid-back adult life. In theme with the song's tone, Cyrus made her emotions the star of the accompanying music video, which is simply one extended shot of Cyrus' faces as she tears up while singing the song.
Cyrus' outfit in the video was clearly an intentional nod to her past. She wears a sparkly red bustier top over a nostalgic Mickey Mouse T-shirt. The tee is a subtle shoutout to her time on Disney Channel, where she first became famous as the star of Hannah Montana.
Cyrus' history with her Disney past has been a complicated one. For several years after Hannah Montana ended in 2011, Cyrus actively distanced herself from the Disney brand, releasing the pointed kiss-off single "Can't Be Tamed" and revealing that her time filming Hannah Montana was damaging to her mental health. Throughout the 2010s, Cyrus made numerous jokes that she had murdered Hannah Montana, clearly wanted to move on from her blonde-wigged alter-ego.
But in recent years, Cyrus has begun celebrating her Hannah days once more. From sharing nostalgic clips from the show to even calling for a Hannah Montana reboot, the superstar seems to have moved passed her issues with being associated with Hannah.
And that's what "Used To Be Young" is all about. When first describing the song to British Vogue back in May, Cyrus shared that it was inspired by her negative reaction to a party song that just didn't feel like her vibe anymore. "It was like, you know, the standard f*cked up in the club track," Cyrus explained. "And I was like, 'I'm two years sober. That's not where I spend my time, you know. You're more likely to catch me and my friends literally walking through rose gardens or going to a museum.' It's not about being self-serious. I'm just evolved."