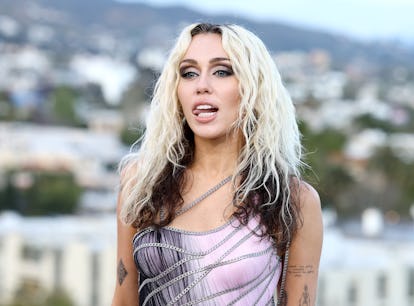 Miley's New Single "Used To Be Young" Officially Has A Release Date
She's been dropping hints for a while.
Arturo Holmes/Getty Images Entertainment/Getty Images
Get in, Smilies — Miley Cyrus is extending her vibrant Endless Summer Vacation to the fall. It initially seemed the singer was closing out this era, as she revealed she had zero plans to tour this album (or any other future releases, for that matter). However, earlier this month, she began dropping hints that she had a new single titled "Used To Be Young" in the works. After weeks of ominous teasing, Cyrus recently confirmed the single will drop soon. Like, *this* month soon.
On Aug. 17, Cyrus revealed the release date for her new single on Instagram. "August 25TH. USED TO BE YOUNG," she began the post, which features a video of her strutting in a red Mickey Mouse-inspired bodysuit. While certainly a fashion statement, her outfit seemingly alluded to another surprise: She's doing a second round of her Endless Summer Vacation Backyard Sessions.
According to the singer, the show — which will premiere on Aug. 24 as a ABC Special — will have more than Cyrus' live raspy vocals. "This time with a retrospective interview sharing stories about the first 30 years of my life in honor of U2BY," she wrote in the caption. "This song is dedicated to my loyal fans. I love YOU for loving every version of ME."
Cyrus released her first round of "Backyard Sessions" for this era in March. It aired on Disney+, a sweet nod to her first musical home as Hannah Montana. The singer has reimagined her last album (2020's Plastic Hearts) and performed song-covers in this series since 2012, so it'll be exciting to see her return with new music.
Cyrus first teased "Used To Be Young," then lauded as an unreleased track, in her May 18 British Vogue profile. At the time, she shared that a songwriter approached her with a club-thumping song that may have been her vibe at one time, but not anymore. "It was like, you know, the standard f*cked up in the club track," Cyrus explained. "And I was like, 'I'm two years sober. That's not where I spend my time, you know. You're more likely to catch me and my friends literally walking through rose gardens or going to a museum.' It's not about being self-serious. I'm just evolved."
The experience inspired Cyrus to write her own song in which she looks back on her hard-partying days and reflects on where she's at now. She shared four lines of the lyrics in that interview:
"I know I used to be crazy / I know I used to be fun / You say I used to be wild / I say I used to be young."
That theme shone through on Endless Summer Vacation as she sang about the aftermath of her divorce from Liam Hemsworth. Over glistening, '80s-stylized beats and modern ballads, the album embraced the "new Miley" — a woman who is prioritizing self-love and her new budding romances rather than heartbreak.
As for "Used To Be Young," fans theorized Cyrus was working on a second volume of Endless Summer Vacation, and that it would appear as a bonus track. But now, it seems like Cyrus is pairing the new release with another one of her eras: Bangerz. In the text for the preorder of her 10th-anniversary Bangerz vinyl re-release on Cyrus' website, there's a very interesting sentence. It reads, "Reflect back on when Miley Used To Be Young by revisiting the beloved original hits such as 'Wrecking Ball,' 'We Can't Stop,' and 'Adore You.'" Oh?
Thematically, including "Used To Be Young" on the re-released version of Bangerz makes sense. The 2013 album undoubtedly exemplifies Cyrus' wildest era, the exact topic "Used To Be Young" is inspired by. With the new track arriving on Aug. 25 and Bangerz's re-release coming that following month, Smilies are certainly being well fed this fall.
This article was originally published on