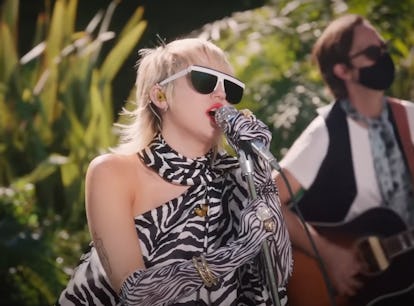 Relive The Magic Of Miley's Most Iconic "Backyard Sessions" Performances
The Ariana duet! The Britney cover! "The Climb"!
YouTube/MTV
Miley Cyrus has experimented with a ton of different genres and personas throughout her career, but she's kept one fan-beloved tradition as a constant. Her "Backyard Sessions" concert series began as a surprise musical gift to her fans shortly after Hannah Montana ended, proving her vocal chops extended far beyond the teen-pop hits she released while wearing that blonde wig. In the decade since, "Backyard Sessions" has become a place where Cyrus would debut some of her most memorable covers, iconic collaborations, and fan-favorite performances. Here's how a one-off song cover on Cyrus' YouTube channel turned into one of the best streaming concert series ever.
Cyrus didn't know she was kicking off what would become a decade-plus live music series when she uploaded three performances she recorded in her backyard to her YouTube channel back in 2012. As her career continued to grow, Cyrus returned to the yard four more times to prove all she needs is a mic and her backing band to make musical magic. Her newest "Backyard Sessions" event is the biggest yet; Miley Cyrus - Endless Summer Vacation (Backyard Sessions) premiered on Disney+ on March 10, featuring Cyrus giving the debut performances of several tracks of her eighth studio album, which released on the same day.
To see how far "Backyard Sessions" has come, here are some of the most iconic moments in its timeline.
2012
Cyrus began "Backyard Sessions" with a three-song set she uploaded to her YouTube channel at the end of 2012. She first shared her covers of James Shelton's "Lilac Wine" and Melanie's "Look What They've Done to My Song Ma," but the true highlight came at the end. Cyrus' cover of "Jolene," the scorned-woman country track that made her godmother Dolly Parton famous, showed the world the true power of Cyrus' voice.
2015
Cyrus revived "Backyard Sessions" in 2015 in support of her then-newly-launched charitable nonprofit Happy Hippie. With 11 performances, this was her longest "Backyard Sessions" entry to date, and it focused heavily on collaborations with rockers like Joan Jett, Laura Jane Grace, and Melanie. The standout performance, though, was Cyrus' duet with Ariana Grande.
Decked out in cozy animal onesies, the two effortlessly hit all the right notes in a super chill, zenned-out cover of Crowded House's "Don't Dream It's Over." It's become a classic, oft-revisited performance for Cyrus fans, Grande fans, and just music lovers in general.
October 2020
With everyone was on lockdown unable to leave their homes in 2020, it was the perfect time to bring back "Backyard Sessions" as a way to enjoy a concert without the crowds. Cyrus focused on throwback rock covers this time around, delivering performances of Pearl Jam's "Just Breathe" as well as "Sweet Jane" and "These Days" by The Velvet Underground. She also had a treat for the pop girlies when she covered Britney Spears' "Gimme More."
This session also featured Cyrus' first duet performance with her younger sister, Noah Cyrus.
The two sisters sang a stirring rendition of Noah's song "I Got So High That I Saw Jesus," showcasing how well their voices blend together for the first time.
November 2020
Cyrus didn't wait long to bring "Backyard Sessions" back for a fourth time. For the release of her rock album Plastic Hearts, Cyrus performed four of her new tracks live for the first time: "High," "Plastic Hearts," "Golden G String," and "Angels Like You."
2023
Cyrus delivered her biggest "Backyard Sessions" concert yet for the release of Endless Summer Vacation in a Disney+ special. She performed eight tracks from the album live for the first time, including its feisty lead single "Flowers."
The staging was also unique, as Cyrus sang on the rooftop of the famous Los Angeles home that once belonged to Frank Sinatra. Along with treating fans to her new hits, Cyrus also threw it all the way back to 2009 with a performance of "The Climb."
With over a decade of "Backyard Sessions" under her belt, Cyrus has proven that while she can own any stage or venue in the world, she always shines the most in her own backyard.
This article was originally published on